Lord Chief Justice allows Twitter in court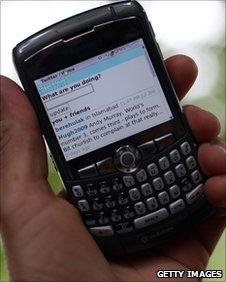 Tweeting from court is to be allowed after a ruling from the Lord Chief Justice for England and Wales.
He said live text-based communication would be allowed as long as the judge believed it would not interfere with the administration of justice.
Lord Judge's ruling was prompted after journalists used Twitter at the bail hearing of Wikileaks founder Julian Assange to give live updates.
The interim guidance has immediate effect but a review will be conducted.
The interim guidance covers the use of mobile, e-mail and social media such as Twitter, and internet-enabled laptops.
Lord Justice Judge's ruling said: "The use of an unobtrusive, hand-held, virtually silent piece of modern equipment for the purposes of simultaneous reporting of proceedings to the outside world as they unfold in court is unlikely to interfere with the proper administration of justice."
Recording sound or images during a court hearing is illegal, but sending electronic communications has not been.
Use of Twitter in court had been contentious because it is a form of public broadcasting and potentially readable by anyone.
At the City of Westminster Magistrates' Court hearing on Mr Assange's bail application on Tuesday last week, journalists asked the judge whether they could tweet.
District Judge Howard Riddle said he had no objection and several reporters then proceeded to give regular updates as the hearing unfolded.
However, later in the week at Mr Assange's next bail hearing at the High Court, Mr Justice Ouseley said Twitter could not be used.
Legal analysts say the practice has been going on "quietly and surreptitiously for some time".
Related Internet Links
The BBC is not responsible for the content of external sites.