Heathrow passengers 'waiting for a miracle'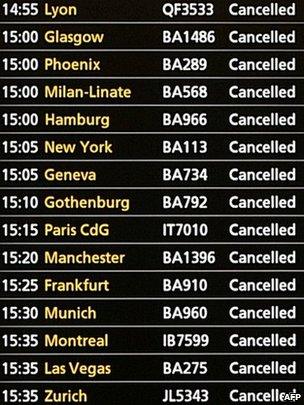 When someone's trying to get back home to be with their family for Christmas, they won't give up hope easily.
"I will fly today," declared Claire Whittle-Long as the Tube brought her into Heathrow Airport on Monday morning.
"But I said that for the last two days," she added, the determination in her voice faltering ever so slightly.
The 24-year-old South African nanny proudly offered to show her survival blanket, a 'badge of honour' from an overnight stay at the airport on Saturday that she was desperately hoping would not be needed again.
Others held similar hopes.
"I have a brand new granddaughter that I want to hold," said Colin Turner, who has been waiting at Heathrow since Saturday morning for his flight home to Dallas, Texas.
Now inadvertently able to compare the relative comfort of terminals 3 and 5 for an overnight stay, the 55-year-old army contractor declared Terminal 5's "accommodation... a lot better"
He was one of a few passengers who had been given an inches-high plastic bed to sleep on inside the airport's 21st Century gateway.
Terminal 3, where Mr Turner spent Saturday and most of Sunday, "was very, very overcrowded," he said.
"It felt very unsafe. There was probably in the neighbourhood of five to six thousand congregated in that terminal. We just felt like cattle having to stand there, and couldn't go anywhere."
Airport operator BAA asked passengers not to come to the airport on Monday unless their flight had been confirmed, saying there were more people inside the terminal buildings than it could safely handle.
But with about a million passengers due to pass through Heathrow in the week before Christmas, they continued to wheel their suitcases up in droves.
As family groups gathered in urgent conference around baggage trolleys, and solo travellers updated loved ones by mobile phone, the languages of the world could be heard.
But wherever somebody was from, and wherever they were trying to fly to, the tone of voice was the same: weary and bewildered, despondent and frustrated.
Many felt that a lack of information from the airport and the airlines makes the experience much worse.
"Any news at this point would be good news," said Alex Andrew, 20, from St Louis, Missouri.
He was among a group of about 50 US students who, after studying at a college in Lincolnshire for a term, decided to spend a few days visiting Italy before their return home.
"It was beautiful, wonderful," he said. "Then we came back expecting to be able to get home and all this happened. It's upsetting."
Stranded at the airport since the early hours of Saturday morning, the group have been told the earliest flight they can be re-booked on departs on Christmas Eve.
"So we are going to be here about a week," Mr Andrew said.
"We are all very angry with BA. A lot of us don't understand why we can't get on a flight earlier than the 24th, like in groups of three or four on other Chicago flights.
"They are telling us that because we booked as a group, BA can't split us up even if they wanted to. When we ask them why, they don't give us any reason behind what they are telling us."
He added: "We all discussed that this is the worst way to end the good semester abroad - the image of Terminal 5."
Mr Turner said he had been re-booked on a flight that was due to depart on Monday afternoon, so was again allowing himself to look forward to Christmas with his wife and family of six children and 10 grandchildren.
Among the rumours that had circulated to fill the void of official information over the last two days, he said, had been the suggestion that Heathrow could be closed for up to two weeks.
"That is my entire 'R&R'. I was getting afraid that I was not even going to see my family, that I was going to have to turn around and go back."
He said: "There was all kinds of rumours going around the crowd. Every 10 or 15 minutes you would hear a new rumour.
"It kind of went in waves all the way through the whole crowd. After a while I kind of caught on, this is bad information we are getting."
On the monitors above the check-in desks where flight numbers are usually displayed, most instead show the BA re-booking telephone number. Many passengers are sat studying laptop computers, logged on to BA.com, trying to find a way home.
"This is a living nightmare," says 19-year-old Sofie Therkildsen. She and Belin Beyoglu, 22, arrived on Monday morning on the only flight to leave New York's JFK airport for Heathrow the previous day.
They should have been transit passengers getting onto connecting flights to Copenhagen and Istanbul respectively, but landed in London to be told those departures were cancelled.
They were handed their luggage and directed into Terminal 5 to join the thousands of other travellers trying to re-book.
But they had found the re-booking desk already closed, the re-booking telephone line impossible to get through to, and internet access currently unavailable preventing them accessing BA.com, they said.
"We are going to be living in Heathrow for the rest of our lives," said Miss Beyoglu. "Merry Christmas."
The pair glance forlornly at one of the terminal's Christmas trees nearby, its appearance now more poignant than festive, an impersonal substitute for the seasonal decoration of far-away homes.
The target is to be home for Christmas Eve, says Miss Therkildsen, but she adds: "It's almost like waiting for a miracle."