Travel freeze: Your stories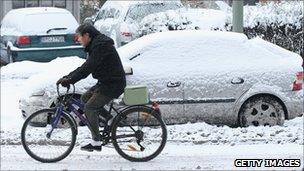 Ice, snow and sub-zero temperatures in northern Europe have disrupted travel, leaving Europe's busiest airport Heathrow, near London, all but closed.
Flights were also cancelled on Monday in Frankfurt, Amsterdam and Brussels and seven in ten services were running at the two main Paris airports.
Here, stranded passengers describe their ordeals.
Melissa Gordy, from Pasadena, California, stranded in London
"We spent four days in London, and were due to leave for South Africa on our honeymoon on Saturday.
It took us four hours to get to Heathrow due to tube disruptions. When we there, they wouldn't even allow us into the terminal and nobody from our airline would even speak to us.
Our flight was cancelled and it was nearly 24 hours before we got through to anyone.
It was close to 48 hours later before our airline was able to find us something to Cape Town (Gatwick - Dubai - Johannesburg - Cape Town).
We are still not yet confirmed on this flight, which is on Thursday.
Even if we are confirmed, we are terrified that our flight from Gatwick to Dubai will be cancelled or delayed and will miss our connecting flights.
We have also bought a package deal of flights within Africa and if we miss one flight, our terms and conditions state that it would be like a no-show and the rest of our trip would be cancelled.
So if we don't make it by Christmas morning, then we will be stuck in Africa without a flight or hotel. I've already spent 24 hours crying. I just hope we can salvage our honeymoon."
Rebecca Taylor, from the UK, stranded in Moscow
"Me and my friend are stuck in Moscow without a visa. This was supposed to be a two-hour stop over for an Aeroflot flight to Heathrow.
We are being held under guard on the third floor of the Novotel hotel and are not allowed to leave our bedrooms, the windows don't open and they refuse to provide water.
There are some 30 other people here in a similar situation.
They are not allowing us to make phone calls and are charging extortionate rates for internet access.
No-one speaks English and Aeroflot are refusing to communicate with us about our flight and take us back to the airport.
Can the airlines please prioritise passengers in transit? We have no idea what is happening."
Asif Yusuf, from the UK, stuck in New York
"I've been in New York for two days since my flight was cancelled.
I was moved to a flight on Saturday, got on the plane and then the pilot announced the aircraft was being de-planed.
Over 200 Brits are in the same boat - or should I say plane? Very little help was offered and queues for re-booking were very long.
What has really cheesed me off is you end up having to fend for yourself and you get no help from call centres who won't answer.
I checked myself into a local hotel having been up for 22 hours.
I had to return to the airport the next day so I could speak to someone about my flight and my missing bags, they have re-booked me for a return on Christmas Eve, and that may be cancelled! But luckily I got my bags.
I'm a single dad and haven't seen my son for a week. I really miss home and I really hope I can get back for the Christmas holidays.
I am travelling for work so hotels and expenses will be covered. I can't imagine how hard it is for other travellers."
Gemma Cleland, from the UK, in Gare du Nord, Paris
"We are at Gare du Nord in Paris, waiting to get on a Eurostar train. Our train is supposed to leave at 1900, but knowing what the situation is, we left earlier.
We checked out of the hotel at noon and have been waiting here for three and a half hours.
There are thousands of people, massive queue. We understand that some trains have been cancelled while others are running, but we don't know which particular trains are running and which not.
There is no information whatsoever. They keep repeating "don't travel unless you have to", but no concrete announcements.
We checked the website before we came and it wasn't updated with the latest information. It just tells you to arrive one hour before the train. Completely out of date.
We called Eurostar - they don't seem to know anything.
If we can't board a train tonight, we'll have to stay at the station tonight and it's freezing. Plus there's no food - there are so many people here, it's impossible to get anything."
Paul Skidmore, in Berlin, Germany
"It was very chaotic at Berlin's Tegel airport this morning. The queues for re-booking cancelled flights were extremely long. The Air France / KLM desk had three members of staff each processing around six enquiries per hour.
When I joined the queue around 0800 there were around 15 people in front of me.
Two hours later after rebooking there were between 200 and 300 in the queue.
Many other Air France and KLM check in assistants were standing around but only three were actually processing passengers.
As I left the airport having given up on boarding any flight today - I was originally scheduled to fly via Paris to Birmingham - the queues for rescheduling Lufthansa and Air Berlin tickets were also extremely long, snaking round almost the whole octagon of Tegel's terminal building.
I decided to re-book for January. I've been living in Germany for about ten years, but I always go to the UK just before Christmas to see my mother.
As there is a danger of me ending up stranded in Paris, I thought it best to postpone the trip."
Rob Shoesmith, from the UK, in Santa Monica, California
"I was due to fly back to the UK on Tuesday afternoon. I received an email from Virgin Atlantic on Monday saying that the flight had been cancelled and that they had very limited availability until December 23.
I've been on their website and the earliest flight with Virgin is December 26, which means that I will miss Christmas.
While I am waiting, I might fly down to the Grand Canyon for a couple of days because the hotels are cheaper there.
My biggest problem is that I've got ten people coming over on Christmas day and I was the one doing the cooking, it's going to be a bit of a problem."
Anne Low, from the UK, at JFK airport, New York
"I've been in New York on holiday with my friend celebrating my 50th birthday and her 70th birthday.
We got a text at 2200 last night saying our flight had been cancelled and to call a number or check online. But I've been ringing the number since 0330 and I just can't get through.
There are now about 100 people at the airport. The worst thing is that no-one from Virgin is here explaining anything.
The desk says that no-one will get here until 1430. We feel like we've just been dumped.
All we want to do is get home for Christmas, but it's being bandied around that we may be stuck here until Thursday, or even Boxing Day - you know what Chinese whispers are like.
I understand no-one wants to fly if it's dangerous but what is making people angry is not knowing what is going on."
Related Internet Links
The BBC is not responsible for the content of external sites.