7 July firefighters 'did not get a proper debrief'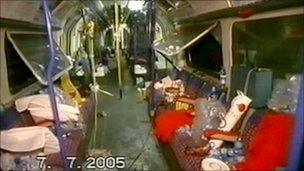 Firefighters who rescued people from a Tube carriage on 7 July 2005 were never given a proper debrief, it has emerged.
But the inquests into the deaths of 52 people heard that a debrief was offered to the London Fire Brigade's equality and diversity department.
The crews who tackled the carnage at Russell Square - where 26 people died - were not asked their opinions of the event afterwards, the inquests heard.
The inquests have been told about rules which delayed the crews.
The first firefighters were told not to enter the tunnel where the carriage was without back-up or breathing apparatus.
The inquests have been told this led to a 29-minute delay.
Suicide bomber Jermaine Lindsay detonated his device on a train between King's Cross and Russell Square.
Terrence Adams, a senior divisional officer, who was in charge between 1000 GMT and 1100 GMT that day, said nobody had asked him afterwards how the rescue had gone.
A lawyer for some of the victims' families, Christopher Coltart, asked Mr Adams, who has since retired, if he thought this was an oversight.
"I can't answer that question because that wasn't my area of responsibility," he replied.
Mr Coltart said: "Although the logistics department and the equality and diversity department had their say, there was no review upon the protocols which actively impacted upon entry into the tunnel on that day."
Related Internet Links
The BBC is not responsible for the content of external sites.