UK newspapers angry at travel chaos caused by snow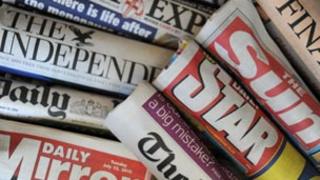 The misery caused by the winter weather continues to dominate the newspapers.
The Sun tries to find a glimmer of humour, with the headline: "All I want for Christmas is my two front seats."
But for many papers the situation is no laughing matter - and the Independent's Simon Calder is unimpressed.
"National embarrassment deepened to abject humiliation" for the UK, he writes, while places like Dubai and Abu Dhabi - which would like to take over as global travel hubs - are delighted.
'Skimping'
The Daily Mirror turns on David Cameron, accusing him of "a lack of leadership" over the travel crisis.
"Shed the complacency and pull your finger out," its editorial demands.
The Guardian points that finger at airports operator BAA for "skimping on resources" to cope with snow, and at the airlines themselves for leaving passengers "to fend for themselves".
But the paper adds: "At times we have to accept conditions as they are, and our limited ability to defy them."
'Reckless'
Several papers give their thoughts on David Cameron's historic meeting with union leaders at Downing Street.
The Daily Express thinks "the country's way forward through hard times depends on sensible co-operation".
But the Daily Mail attacks the Unite union for "quite ludicrously" claiming there is no case for spending cuts.
It compares unions and bankers, both of whom it says are being "reckless" with our economy, and both of whom must "join the rest of us in the real world".
'Masterful commentary'
The BBC world affairs correspondent Brian Hanrahan, who has died aged 61, is warmly praised by several papers.
The Daily Telegraph says he was a man of "steady nerve, integrity and balanced judgement" whom viewers came to trust "as someone of great sensitivity and personal humanity".
He reported on the Tiananmen Square massacre, the fall of the Berlin Wall and perhaps most memorably the Falklands War.
Throughout, says the Times, he gave "a masterful commentary".