Arrests halted 'significant' terror plot - Lord Carlile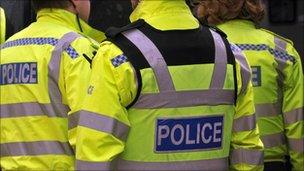 The arrest of 12 men in four cities stopped a "significant" terror plot, the independent reviewer of counter-terrorism powers has said.
Lord Carlile told the Commons Home Affairs Select Committee that charges were "very possible" within days.
On Tuesday evening, police were granted more time to question the suspects, aged from 17 to 28.
They were detained under the Terrorism Act on Monday after raids in London, Cardiff, Stoke-on-Trent and Birmingham.
Officers have been granted a five-day warrant of further detention.
The 12 are suspected of the commission, preparation or instigation of an act of terrorism in the UK.
Lord Carlile told the committee: "The briefing I have had shows there to be allegations of a significant plot in the cities mentioned.
"The gestation period for the arrests has been long. I was aware of an operation some time ago which led to these arrests."
He continued: "On one occasion I was able to observe, literally observe, some of it occurring. I believe that it is very possible that people may well be charged and prosecuted.
"I happen to know the Crown Prosecution Service has been involved... for some time in this operation and I would expect significant activity over the next few days."
Security Minister Baroness Neville-Jones, giving evidence to the committee before Tuesday's meeting of the National Security Council, said the threat to the UK's security was "indefinite".
She said: "My understanding is the reason for the arrests relates to activity which was not really safe or wise for them to be permitted to proceed.
"It's very clear that these were important arrests and, as the police said yesterday, necessary for the safety of the nation, with which I think the security service undoubtedly agrees and we should take that at face value."
Unarmed police swooped at about 0500 GMT on Monday over fears the group were ramping up their activities after months of surveillance and monitoring by counter-terrorism officers and colleagues at MI5.
At least five of the men - five from Cardiff, four from Stoke-on-Trent and three from London - are of Bangladeshi origin.
The operation was led by the West Midlands Police counter-terrorism unit, supported by Scotland Yard's Counter Terrorism Command, South Wales Police and Staffordshire Police.
Scotland Yard Assistant Commissioner John Yates, national lead for counter-terrorism policing, said: "With the information we have, I believe arrests were absolutely necessary in order to keep the public safe."
West Midlands Police said in a statement: "All were arrested at or near their home addresses, with the exception of one suspect from Stoke who was at a domestic property in Birmingham.
"Searches are now being conducted at the home addresses, plus the address in Birmingham and another residence in London.
"The suspects will be held at police stations in central London, the North West and the West Midlands."
Home Secretary Theresa May said she had been kept fully informed of the police operation, adding the UK faced "a real and serious threat from terrorism".
Three terraced houses, including two neighbouring properties, were searched in Grove Street in Cobridge, Stoke-on-Trent.
Police said four men, one aged 19, two aged 26 and one aged 25, were being questioned. One was arrested at a friend's house in Birmingham.
Officers confirmed to BBC Wales that arrests in Cardiff were at a house in Neville Street in the Riverside area and at a takeaway in the Ely area two miles away.
Police also arrested three men at their homes in central London, and it is understood they are being held at Paddington Green police station.
BBC security correspondent Frank Gardner said it was an MI5-led operation and the alleged plot was in "relatively early stages".
He said the police had up to 14 days to question the men before either charging them, releasing them or applying for more time.
There was always a balance to be struck between letting a plot develop, in order to build up enough evidence, and protecting the public, he added.
According to the Home Office:
During 2009-10, 30% of terrorism arrests in England, Scotland and Wales resulted in individuals being charged
Of these charges, 48% were for terrorism offences
Over the same time period, 57% of those charged under terrorism legislation were convicted
From 2006-10, only six people have been held for 28 days without being charged
BBC home affairs correspondent Danny Shaw said counter-terrorism sources had described the operation as significant and it was related to an investigation into al-Qaeda-inspired terrorism.
"The suspects are believed to have been involved in a plot against targets in the UK," he said.
"This is not believed to have been a potential plot of a Mumbai-style attack, but a plot involving explosives or bombs."
Our correspondent said the officers who arrested the men were unarmed, suggesting the police felt there was no serious threat against them.
The alleged plot was not linked to the recent suicide bombing in Sweden, he added.
Earlier this month, Iraq-born Taimour Abdulwahab al-Abdaly blew himself up in the Swedish capital Stockholm.
He had been living in Luton and had been thrown out of one of the town's mosques in 2007 for advocating violence, but he had not been reported to the authorities.
In September, intelligence sources said they had uncovered the early stages of an al-Qaeda plot to carry out co-ordinated attacks in the UK, France and Germany.
It was thought militants were planning to copy the 2008 attacks in the Indian city of Mumbai, where 10 gunmen went on a three-day rampage, killing 166 people.
The UK's terror threat level of "severe", the second-highest rating, means a terrorist attack is highly likely.
Related Internet Links
The BBC is not responsible for the content of external sites.