Zara Phillips' romance with rugby's Mike Tindall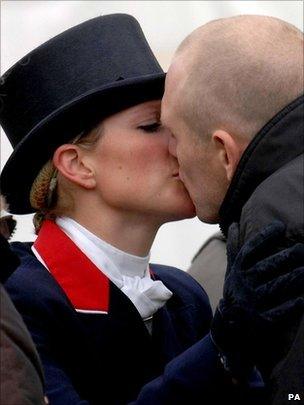 She is 12th in line to the throne and an eventing champion, he is a World Cup-winning rugby union international.
And it was during that successful campaign for the England team in Australia in 2003 that Zara Phillips first met Mike Tindall.
Seven years on, Mr Tindall has proposed to his girlfriend at their Gloucestershire home and she has said "yes".
The Queen and the Duke of Edinburgh are said to be "delighted" by the news.
The couple often make the sports pages for their endeavours, but have tried to keep their relationship private wherever possible.
Photographs of the couple usually show them at Cheltenham Festival, sailing races, equestrian or rugby events or sporting awards.
In 2004, Mr Tindall said dealing with the media was something he had learned to accept in his relationship with Ms Phillips.
He spoke in his role as then England vice-captain after team-mate Jason Robinson had boycotted a news conference in protest at press intrusion into his own private life.
"I just get on with my life, it's all I can do," said Mr Tindall.
Ms Phillips, 29, won individual gold on Toytown in the three-day eventing competition at the World Equestrian Games in Germany in 2006.
After her victory, she paid tribute to the influence Mr Tindall, now 32, had had on her achievement.
"He gave me a lot of confidence and was a major support," she said.
The feat helped her win the public vote for BBC Sports Personality of the Year in 2006, following in the footsteps of her mother, Princess Anne, who won the award in 1971.
Ms Phillips was accompanied by Mr Tindall when she collected her MBE for services to equestrianism from the Queen at Buckingham Palace in November 2007.
In May 2008 Ms Phillips was one of six bridesmaids at the wedding of her older brother Peter Phillips and his Canadian bride, Autumn Kelly, in St George's Chapel at Windsor Castle.
A year later, Mr Tindall was banned from driving for three years after admitting drink-driving the morning after a day out with Ms Phillips at the 2008 Cheltenham races.
Mr Tindall currently plays for and captains Gloucester and remains in the England team.
Ms Phillips has missed two Olympic Games after her horse, Toytown, suffered injuries, but is hoping to compete in the London 2012 Games.