Snow chaos: Cameron frustrated by delays at Heathrow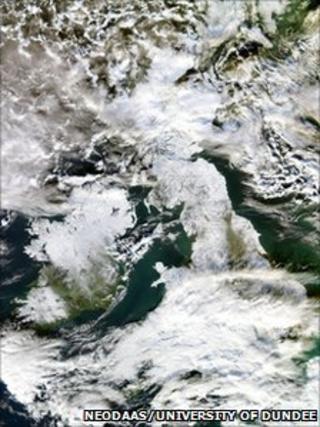 The lengthy delays to air travel caused by snow at Heathrow airport over the weekend have been frustrating, Prime Minister David Cameron has said.
He said the cabinet had discussed the widespread travel chaos "extensively" on Tuesday, as thousands of passengers remained stranded across the UK.
BAA said Heathrow's southern runway, shut since Saturday, had now reopened.
Meanwhile, East Coast trains between London and Peterborough had to be evacuated after power line damage.
Heathrow confirmed the southern runway had reopened by 1700 GMT.
A spokesman for airport operator BAA said: "Airlines are currently operating a significantly reduced schedule while they move diverted aircraft and crew back into position.
"It is extremely important that passengers do not travel to the airport unless they have confirmed their booking with their airline and their flight is shown as operating on www.heathrow.com."
British Airways said it would aim to operate the "vast majority" of its flights from Heathrow on Thursday but it would take "some days to return to normal".
'Difficult time'
Eurostar said it planned to run a near normal service on Wednesday, checking-in passengers for the train they were booked on.
The cross-Channel operator advised passengers they needed to turn up only an hour before the departure time shown on their ticket.
Forecasters have predicted there will be no let-up in the freezing conditions until Boxing Day.
BBC weather forecaster Louise Lear said there would be a band of heavy snow from the West Midlands to East Anglia by Wednesday morning.
Snow depths of 5-10cm (2-4in) widely, and up to 25cm (10in) in places, are forecast.
The Met Office said temperatures could fall as low as -20C (-4F) in parts of northern England, southern Scotland and Northern Ireland on Tuesday night.
It also has severe weather warnings in place for heavy snow for Wales, north-west England and the Midlands.
Heathrow has been criticised for the length of time it took to clear tonnes of snow from runways and plane stands after a blizzard on Saturday dumped 5in (13cm) in one hour.
Mr Cameron said: "Even BAA's harshest critics have conceded that given the amount of snow that has fallen, extensive disruption is understandable.
"But if it's understandable that Heathrow had to close briefly, I'm frustrated on behalf of all those affected that it's taking so long for the situation to improve."
He added: "The people stuck here are having an incredibly difficult time, especially just a few days from Christmas, and everything must be done to either get them on holiday or get them home safely."
Heathrow is operating a reduced flight schedule until at least 0600 GMT on Thursday, although the Department for Transport has relaxed night-flight restrictions at the airport.
Normally all flights stop between 2330 and 0600, but departures can continue until 0100 and arrivals through to 0600.
'Refugee camp'
The government has revealed that an offer of Army assistance was turned down by Heathrow.
Transport Secretary Philip Hammond said: "We've said if they need additional manpower - a bit of muscle to clear snow - we can provide them with troops and lorries to do that.
"They're telling me at the moment they have all the muscle they need. They've cleared most of the stands here and they're actually now in the process of clearing the south runway to get that opened."
BAA spokesman Malcolm Robertson told the BBC that the Army "wouldn't make things happen any faster".
Victoria Gardiner had been due to fly with Singapore Airlines to Australia with her husband and their 17-month-old toddler on Sunday. She described Terminal 3 at Heathrow as "a bit like a refugee camp".
Linda Groom, who was scheduled to leave London for Australia on Saturday after two months working in the UK, said: "My husband and two grown-up daughters are waiting for me, and hoping that I will arrive on Christmas morning."
In other developments:
More than 100 passengers were stuck for six hours on a Southeastern train between Kemsing and Otford in Kent when rail lines froze
Gatwick airport reopened at 0600 GMT after closing overnight
Edinburgh, Aberdeen, Glasgow, Birmingham, Luton, London City, Bristol, Newcastle, Exeter, Bournemouth, Cardiff and Southampton airports all warned of delays and cancellations
Some 392 schools remained closed in Northern Ireland
The RAC breakdown service said call-outs peaked at 1,800 an hour
A report by the head of the RAC Foundation concluded the government may find it "challenging" to meet road salt requirements for the rest of the winter, although enough was stockpiled to cope with the cold spell at the start of the month
The Foreign Office warned of disruption to rail and air travel in France, with delays in parts of Germany, the Republic of Ireland, Italy, the Netherlands and Switzerland
The European Union heavily criticised European airports for their response to the recent weather, with transport commissioner Siimn Kallas telling them to "get serious" about planning
Air travellers have also been stranded abroad by the Heathrow disruptions, including 43 Cambridge choristers, aged 10 to 13, stuck in Virginia in the US until after Christmas
On the rail network, 400 passengers were forced to abandon four trains between London and Peterborough after damage to overhead power lines near Huntingdon.
It is hoped a normal service can resume at 0600 GMT on Wednesday but the disruption has caused major backlogs that could take days to clear.
East Coast said it would operate a "near normal" timetable between King's Cross and Scotland on Wednesday.
First Capital Connect, First Hull, Grand Central, TransPennine Express, Stansted Express, Heathrow Express, Virgin, South West Trains, Chiltern Railways, Merseyrail, and Arriva Trains Wales services were all subject to delays and cancellations.
Michael Roberts, chief executive of the Association of Train Operating Companies, said: "Across the country, the vast majority of trains have continued to run and most have arrived on time.
"However, there has been disruption and we apologise to any passengers who have had trouble getting to where they want to go."
The enhanced content on this page requires Javascript and Flash Player 9
Map Key
Land
Cloud
Lakes, Rivers & Sea
Fog
Light
Heavy
Frost
Light
Heavy
Pressure Fronts
Cold
Warm
Occluded
Rain
Light
Heavy
Extreme
Snow
Light
Heavy
Temperature tab only
Temperature (°C)
More details from BBC Weather