Migrant marriage rules condemned by Court of Appeal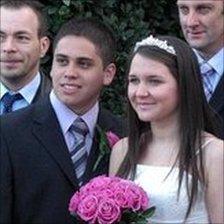 A ban on young foreign spouses entering the UK has been condemned as "arbitrary and disruptive" by the Court of Appeal.
The home secretary banned non-European under-21s from living with British partners in the UK as a way of dealing with the problem of forced marriages.
Lord Justice Sedley, one of three judges to hear challenges from two young couples, said it was up to the home secretary to rewrite the rule.
But he said its impact on innocent lives made it "impossible to justify".
The government said it would seek leave to appeal to the Supreme Court.
Lord Justice Sedley said the ban, contained in paragraph 277 of the immigration rules on entry for settlement of foreign spouses, could not lawfully be applied to Diego and Amber Aguilar or Shakira Bibi and Suhyal Mohammed, or "others like them".
Diego Aguilar and Amber, a British girl, married in November 2008, when she was 17 and he was 18.
They had been dating while at school together in the UK but, when Diego's student visa ran out, he was refused leave to remain in the UK as Amber's spouse.
Amber, now 19, from London, left her UK life to live in Chile, her husband's country of origin.
Under the policy Diego, now 20, cannot have a new visa to live in the UK with his wife until both reach 21.
The appeal judges recognised Amber's right to be joined in the UK by her husband, even though they are both still under 21.
Their decision was welcomed by the Joint Council of the Welfare of Immigrants (JCWI) which brought the appeal on behalf of the two couples.
A JWCI spokesman said the Home Office accepted theirs was not a forced marriage but insisted on applying the under-21 rule.
"Like some 5,000 or so others, they were the innocent victims of a blanket policy designed to target a few cases of forced marriage."
Shakira Bibi, a 20-year-old Pakistani national, married Suhayl Mohammed, a 20-year-old UK citizen, two years ago.
Lord Justice Sedley described how their marriage was a traditional arranged marriage but there was "no suggestion that it was forced".
In December 2008, Ms Bibi applied for entry clearance to join her husband in the UK, but was refused on the grounds that they were both under 21. The couple are still apart.
Immigration minister Damian Green said: "We are disappointed with the Court of Appeal's decision and will be seeking leave to appeal to the Supreme Court.
"Forcing someone to marry is an intolerable act and for genuine couples, marriage is not something that should be taken lightly, especially when it involves moving to another country.
"I think it is reasonable to ask both parties to wait until they are 21."
Related Internet Links
The BBC is not responsible for the content of external sites.