Earthquake in Cumbria felt across neighbouring counties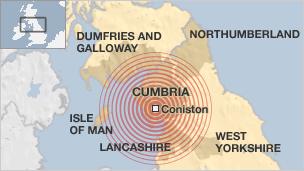 A small earthquake has hit Cumbria and surrounding counties.
People described hearing and feeling the earth moving for "well over a minute" just after 2300 GMT on Tuesday.
The earthquake, which had a magnitude of 3.6, was felt in locations across Cumbria and in Lancashire, south-west Scotland, parts of Yorkshire, Northumberland and the Isle of Man.
Police say there are no reports of injury or damage. The tremor was picked up by the British Geological Survey.
People have contacted the BBC to say they felt the tremor in places including Barrow, Sellafield, Cockermouth, Windermere and Penrith.
Cumbria Fire and Rescue service has also confirmed the quake.
A spokesman said: "We have had no requests from members of the public. At the moment, we don't believe there is any structural damage."
Data from the British Geological Survey (BGS) showed the location of the quake as Coniston, in Cumbria, 9km (5.6 miles) south-west of Ambleside and with a depth of 14.3km (8.9 miles).
David Galloway, a seismologist with the BGS, said: "We've not had any reports of any damage and it's probably unlikely that there will be damage.
"We do get a few earthquakes in this country and maybe get one of this size every 12 to 18 months, but damage is very unlikely."
Gilbert McGowan, of Castle Douglas in Dumfriesshire, told the BBC that his house "moved for 30 seconds" during the tremor, leading him to think a gas boiler had blown up or a car had hit his house.
Karen Dickinson of Caton, Lancashire, said: "The whole house shook and it was very frightening."
Neil Wilkinson, of Whitehaven, Cumbria, said the tremor "shook my house and the bed I was lying in".
He added: "It sounded briefly like a large lorry was approaching. After several seconds the tremors began and lasted for approximately two seconds."
Peter Kelly, owner of the Yewdale Hotel in Coniston, said: "We felt the earthquake. It probably lasted about 30 seconds. It was quite noticeable.
"We were just closing up the bar with a few residents in and we just felt like a bang and then a rumbling but we couldn't decide what it was.
"There's no damage but there was a heavy rumbling."
A spokeswoman for Dumfries and Galloway Fire and Rescue Service said people in its control room in Dumfries had felt a "small tremor" and there was a "bit of noise".
Susan Potter, geophysicist at the US Geological Survey, said six earthquakes had been recorded within 50km of the latest quake during the past 40 years.
Of those, two have been of a magnitude of 3.7 - one in 1988 and another in 2009.
"This general region has had earthquakes of the same magnitude in the past," Ms Potter said.
Related Internet Links
The BBC is not responsible for the content of external sites.