Paul Stephenson says Met faces 'most challenging' time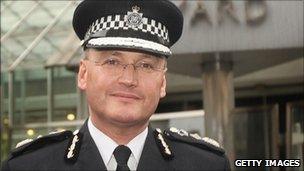 The UK's largest police force is facing the most "challenging" time in its history, according to its commissioner, Sir Paul Stephenson.
Metropolitan Police officers were being stretched by a combination of budget cuts, violent protests and security threats, he told the BBC's Today.
He warned budget cuts would leave the Met with a "significant budget gap" and the force would shrink.
Police funding is being cut over the next four years.
The Met has 53,000 officers and staff and a £3.6bn budget.
He also said the stretch on resources and the challenges the Met was facing are "not as we've known it for a long, long time".
At the same time, Scotland Yard is planning a huge security operation for the Olympics, countering the day-to-day terrorist threat, maintaining neighbourhood policing - and dealing with what Sir Paul says is "unrestrained violence" at student protests.
"When you put all the various challenges that face me and my colleagues in the Metropolitan Police service together, this is as challenging a period as we've ever faced," he said.
Discussing the student protests, he said the force had dedicated more officers to policing the demonstrations, but this was counter to the policy it had adopted for London in recent years.
Sir Paul said: "Just over a month ago, we had some pretty dreadful scenes at Millbank Tower. And I have to say up until then we had the situation where we had been, year on year, cutting back on the amount of police officers we had been dedicating to policing public protests in London."
He said he did not want to get into "political dialogue" about the subject of tuition fees but he was aware there was "clearly a sense of anger out there that's led to a level of violence".
"Undoubtedly, there is a level of extremist behaviour and encouragement that, regrettably, is encouraging some students, some people with no previous records, to get caught up in that hysteria and do some things that, with hindsight, I'm quite sure they're horrified about," he said.
Discussing his officers' actions at the protest, he said "things happen in violent disorders" and he regretted any injuries caused to anyone. He said any complaints about police conduct would be investigated.
He added: "We are committed to maintaining and facilitating peaceful protest... however what we can't permit is a level of unrestrained violence which means that other people who do not want to be part of that process get caught up in it."
Sir Paul acknowledged the Met could make economies - but the "real" issue, he said, was how far the force could "stretch" the savings.
"These are not idle words. We can make significant economy savings, and we're doing that. We've got a responsibility to do it," he said.
"But how far we can stretch those savings is a real issue. So I am concerned about our current budgetary situation, but I'm determined to maintain the operational capability that Londoners want."
Sir Paul said that about 18 months ago, the Met began to adopt a single patrol policy for police officers in many areas of London, resulting in 400 extra patrols in the capital every day.
"We are looking at those smart moves that can increase the benefits of our operational capabilities, our people, spreading them more effectively," he said.
"And we're looking for all of those operational decisions that make better use of what we've got. I'm determined to do that."
Related Internet Links
The BBC is not responsible for the content of external sites.