Newspapers digest Cable's remarks on Rupert Murdoch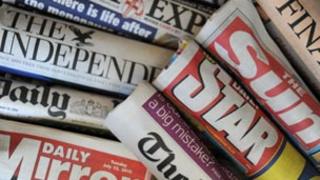 Vince Cable's controversial remarks about Rupert Murdoch and the subsequent loss of some of his powers feature on most newspaper front pages.
The Independent headline reads: "The man who declared war on Murdoch, and lost".
Other titles play on the business secretary's name. The Times has: "Cable's power cut" while the Daily Mirror's offering is: "Cable unplugged".
In the view of the Sun, one of Mr Murdoch's daily papers, he should have been demoted at the very least.
'Crossbow cannibal'
The Daily Telegraph says the prime minister's decision to strip Mr Cable of his responsibilities for overseeing media policy has left him humiliated.
"How could he be so daft?" the Daily Express asks.
The Times, owned by Mr Murdoch, says that although Mr Cable has survived in the cabinet, questions remain about his judgment and impartiality.
The Financial Times says the political sanctity of "St Vince" has evaporated as a result of his comments.
The crimes of Stephen Griffiths - who murdered three women in Bradford and called himself "the crossbow cannibal" - take up many pages in the press.
His life sentence is the main story for the Daily Mail, the Mirror, the Sun and the Daily Star.
The Sun describes him as a pure evil monster who hated people and killed for kicks.
The Mail says he studied the sickest crimes in history, then turned practitioner.
Survival aid
The Guardian says the real fashion accessory this winter is the aluminium foil cape that has been proliferating at Heathrow and St Pancras Station.
The "silver swaddlers" as they are often referred to, are made from an ultra-insulating material.
They are used to retain body heat in survival situations and are fast becoming the look of the "Big Freeze".
But, the paper warns, outdoor stores are fast selling out and online orders risk being delayed by the weather.