Newspapers digest Cable's remarks on Rupert Murdoch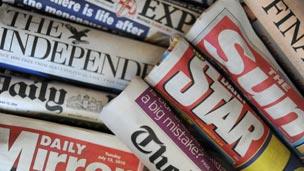 Vince Cable's controversial remarks about Rupert Murdoch and the subsequent loss of some of his powers feature on most newspaper front pages.
The crimes of Stephen Griffiths - who murdered three women in Bradford and called himself "the crossbow cannibal" - take up many pages in the press.
His life sentence is the main story for the Daily Mail, the Mirror, the Sun and the Daily Star.
The "silver swaddlers" as they are often referred to, are made from an ultra-insulating material.
They are used to retain body heat in survival situations and are fast becoming the look of the "Big Freeze".
But, the paper warns, outdoor stores are fast selling out and online orders risk being delayed by the weather.
Related Internet Links
The BBC is not responsible for the content of external sites.