Remembering the UK's soldiers at Christmas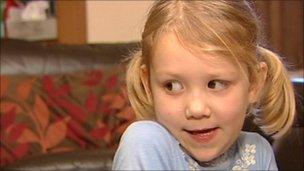 It is Izzy Walton's first Christmas without her dad.
She is only four years old but is determined he knows she has not forgotten about him this Christmas.
And she worries Santa will find it difficult to track him down while he is in Afghanistan.
"It's hard for him to deliver the presents because Daddy is sleeping in a tent and it doesn't have a chimney. So I'm sending him these presents instead and I think that will make him happy," she says.
Her dad is Sqn Ldr Al Walton, who is serving with 16 Air Assault Brigade in Lashkar Gah.
Izzy's parcel is one of thousands arriving in Afghanistan every week at this time of year.
The mail for all British armed forces around the world has to go to RAF Northolt to be sorted.
It is currently processing 3,000 bags of mail a day. Each item has to scanned and photographed before it can be sorted and sent to RAF Brize Norton for the 11-hour flight to Helmand province.
Troops from Royal Logistic Corps make sure all the mail gets delivered to the front line. The BBC spent a week with them, following the Waltons' parcel from their home in Colchester to Lashkar Gah.
Becca Walton, Izzy's mother, explained why it was important to families like hers to send parcels at this time of year.
"We just want to send him a few things so he can feel just a little bit Christmassy because although we're missing him I know he's missing us more," she says.
"It's important for the kids to have that connection with him and Izzy takes it very seriously. She draws and paints things for him and send them out. He sends ones back for her to colour in.
"She has her own idea of what he wants. In autumn, she was sending him leaves because she was worried he wouldn't be able kick leaves like they usually do together. Phone calls and e-mails are great but when the mail comes it's just different."
This Christmas they are sending a memory stick with videos and pictures of their Christmas party and a Santa hat. There a few luxuries but it is the basics he needs and they are even wrapping up chewing gum and shower gel.
The mail for more than 9,000 British troops passes through the sorting office at Camp Bastion.
At 2100 GMT, it was -2C but the Royal Logistic Corps were out in their rolled-up shirt sleeves.
They rigged up the lights to a generator so they could work through the night, breaking up the pallets of mail and getting them out to the front line the next day.
Sgt Maj Ed Dunlop, who runs the sorting office, says: "We need to get the mail out as quickly as we can. We want the guys on the front line who are actually fighting to get their parcel because they really do need it.
"The conditions are not great for them and they need to get that Christmas card, letter or picture of their children. That is really important."
Most troops are working and living in far more remote locations than Camp Bastion and the only way to get their mail to them is by helicopter.
These are not your average postmen - for a start they're armed and as they unload the mail from the Chinook helicopter they also unload an Afghan prisoner - handcuffed and blindfolded.
Nobody looks twice. This is the reality of delivering mail in a war zone.
It has taken a week but Izzy's parcel has arrived in Lashkar Gah.
Al opens the presents and touches the paintings she has made and sheepishly puts on her silver Santa hat.
He says: "The troops here are like kids in a candy shop when the post arrives - and it's the most basic things we love.
"You see grown men scrambling around ripping open packages of sweets.
"It just makes such a difference to get something that someone back home has touched. It means everything really."
Back at Camp Bastion Combat Support Logistic Regiment have just had a delivery.
One staff sergeant has got a present from his sister in Oxfordshire - a hot water bottle.
The card reads: "Just something to keep you warm and cosy in Afghanistan this Christmas."
But there is not much out here that is either warm or cosy. Temperatures at night can plummet to -5 in the winter and even the best sleeping bags cannot keep out the chill.
It costs the Ministry of Defence around £4 to send each parcel, but for the troops out here it is no understatement to say it is worth every penny.