Judge James Pickles dies at 85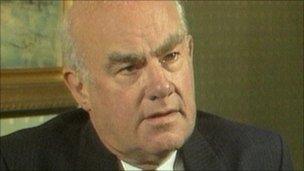 The controversial judge, James Pickles, has died aged 85, it has been confirmed by his son.
He practised as a barrister in Bradford for nearly 30 years before becoming a Crown Court recorder. In 1976, he was appointed a circuit judge.
He regularly attracted controversy over some of his sentences and his outspoken criticism of senior legal figures.
The judge once described a Lord Chief Justice, Lord Lane, as an "ancient dinosaur".
He was also criticised by Lord Lane after he jailed a young mother who refused to give evidence against her former boyfriend.
The Court of Appeal quashed the decision, which infuriated MPs and women's groups.
But the judge was unapologetic: "The only sentence people really take notice of is loss of liberty."
The judge, who lived in Halifax, was little-known beyond Yorkshire until 1985 when he wrote an article for the Daily Telegraph calling for tougher punishments and criticising what he saw as government pressure on the judiciary to keep people out of prison.
This breached a convention which stated that judges should not speak out of court.
He called for legal brothels and relaxation of the drug laws, saying they served only to hound people and encouraged robbery by pushing up prices.
The judge, who was the nephew of the broadcaster Wilfred Pickles, retired from the bench in 1991.
Judge Pickles's cause of death has not been confirmed but he had become bed-bound having suffered ill-health for about six months.
The judge, who died at home on 18 December, leaves sons Simon and Roger, and a daughter, the actress Carolyn Pickles, who has had a wide-ranging career including playing Shelly Williams in Emmerdale.
He also leaves seven grandchildren and one great granddaughter.
His son, Simon, said: "Even though he was largely immobile and bedbound for a lot of the time, he remained keenly interested in his grandchildren and kept up to date with current affairs."
His funeral will be held in the new year.