Obituary: Judge James Pickles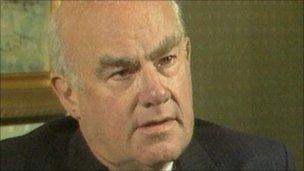 It is not in the English legal tradition for judges to be celebrities. One of the handful to break the mould was Judge James Pickles.
From the mid-1980s until his retirement in 1991, and even for a while afterwards, Judge Pickles became virtually a household name for his forthright pronouncements and his readiness to joust with authority.
The circuit judge from Halifax was little known beyond Yorkshire until 1985 when he wrote an article for the Daily Telegraph calling for tougher punishments and criticising what he saw as government pressure on the judiciary to keep people out of prison.
At that time, judges were constrained from speaking outside of court by a set of rules laid down in the 1950s by a Lord Chancellor, Lord Kilmuir.
By breaching the convention, Judge Pickles was considered to have committed a grave offence and the then Lord Chancellor, Lord Hailsham, came close to sacking him.
There were further spats when Judge Pickles followed up the Telegraph article with one in the Guardian and then appearances on radio and television, including Wogan.
In 1989 he sailed even closer to the wind by switching from opinionating generally on the law, to commenting on cases in which he was personally involved.
His first misdemeanour was to do a BBC interview explaining why he had jailed a young woman for seven days for contempt, for refusing to give evidence against her former boyfriend on an assault charge.
This, while an appeal was pending.
Then he imprisoned a single mother for six months for a theft offence, a sentence which was criticised by the Court of Appeal when it substituted a probation order.
It was at this point that Judge Pickles did something unprecedented for a serving judge. He held a press conference in a pub, appropriately named the Inns of Court, to defend himself.
As if that was not daring enough, he called the Lord Chief Justice, Lord Lane, who heartily disapproved of him, "an ancient dinosaur living in the wrong age ".
The Lord Chancellor by now was Lord Mackay and, like his predecessor, he seemed set upon dismissing Judge Pickles.
However, he had to settle for a "serious rebuke" when the judge threatened a judicial review of any sterner sanction. In 1991, with his pension secure after 15 years on the bench, Judge Pickles retired, to the enormous relief of the legal establishment.
He continued to make waves though, advocating the decriminalisation of cannabis, writing a weekly newspaper column, and taking a role in a sparky Channel 5 programme, The People versus Jerry Sadowitz.
He also gave full rein to his views in two books, Straight from the Bench (1987) and Judge for Yourself (1992).
His claim to have been the man who scuppered the Kilmuir rules gagging judges may, like many of his assertions, have been overblown.
But it is true that post-Pickles, judges have enjoyed an access to the media which they did not have before him.
Related Internet Links
The BBC is not responsible for the content of external sites.