Roads running well in getaway as freeze continues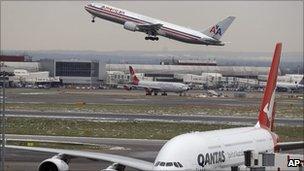 The festive getaway on the roads has been described as "remarkably quiet" as sub-zero temperatures and ice cause treacherous driving conditions.
While Thursday was expected to be one of the busiest traffic days of the year for shoppers and travellers, the AA has reported roads are running well.
Meanwhile, there are warnings for further heavy snow in eastern Scotland and north east England.
The Highways Agency has suspended 64 miles of roadworks until 4 January.
On Thursday afternoon, AA president Edmund King said the organisation was expecting some 14 million people to get away in the next few days.
"The roads have been really remarkably quiet. Apart from a couple of incidents on a slip road on the M25 and another on the M5, generally the motorways and trunk roads have been running really well.
"In fact, probably less traffic than a normal Friday night in terms of the getaway."
The AA is expecting an extended evening rush hour, until approximately 2000 GMT. It said it was likely to attend 19,000 breakdowns by the end of Thursday, approximately double the normal rate.
Some 142 sets of roadworks were due to be completed by the Highways Agency ahead of the Christmas and New Year holiday traffic.
Darron Burness, head of AA special operations, said: "Daytime temperatures haven't risen above freezing in most areas, so ice will remain the biggest hazard for those travelling on Thursday night and through the Christmas weekend."
Flights at Gatwick and London City are said to be "back to normal" after days of delays and cancellations
Heathrow is expecting to operate 1,206 flights and 200,000 customers - almost a full schedule
The Local Government Association has promised gritters would be operating on Christmas Day in many areas
Nottinghamshire, Wiltshire and Somerset councils have also asked for extra supplies of salt
NHS Warwickshire is appealing for drivers of 4x4 vehicles to spare a few hours over the next 10 days to drive nurses to patients in snow-hit areas
Some services on the East Coast and West Coast main lines have been cancelled, while some First Great Western London to Cardiff services were also cancelled. ScotRail is running a reduced service. National Rail has more details of service reductions and cancellations on its website
Industrial action scheduled for Thursday on London Midland trains has been cancelled
Northern Ireland hit a record temperature low on Thursday with -18.7C at Castlederg, County Tyrone
Two people have been killed on the roads in Scotland, although it is not clear if the weather was to blame
British Airways said it had run all of its long-haul flights from Heathrow and the vast majority of its short-haul. It said it had put larger aircraft on some routes and also chartered a number of planes.
But a spokeswoman said: "There may be some people who may not get where they want by the time they want."
Some experts suggest Thursday will be the busiest day of the year for shopping centres.
Visa Europe said it was expecting to process 26.5 million transactions, worth more than £1.2 billion as customers, many of whom had delayed shopping because of the bad weather, make Christmas purchases.
Met Office weather warnings for heavy snow are in place for Orkney and Shetland, the Highlands, Grampian, North East England and Yorkshire and Humber.
People planning to use the trains to make their Christmas getaway are being warned to expect delays and cancellations because of problems caused by bad weather.
The Association of Train Operating Companies (Atoc) said up to a quarter of services would not be running on some routes on Thursday, but spokesman Edward Welsh said the cancellations were intended to help passengers.
He said the reduced timetable meant those remaining services should run more reliably.
Heavy snow at RAF Brize Norton, in Oxfordshire, means not as many troops as usual have been able to leave Afghanistan to return home for Christmas.
Some have been delayed for days either in Helmand or the Middle East.
But the BBC has been told by the British military at Camp Bastion in Afghanistan that all troops due on leave this week will have left for the UK by late Thursday afternoon.
Related Internet Links
The BBC is not responsible for the content of external sites.