Newspapers focus on Vince Cable fall-out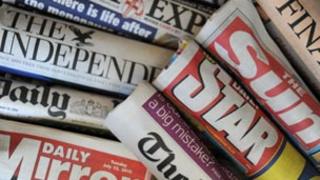 The fall-out of Vince Cable's comments to undercover reporters that he had declared war on Rupert Murdoch continues to interest the papers.
The Financial Times says the story has sharply reduced the business secretary's sphere of influence.
The Daily Mail says Culture Secretary Jeremy Hunt - who will now rule on Mr Murdoch's bid to take full control of BskyB - is himself compromised.
And the Guardian says the decision is too important to be left to Mr Hunt.
Bondage
Several papers report new details surrounding the death of MI6 officer Gareth Williams, who was found padlocked in a holdall in his flat.
The Independent and Daily Star print photofits of a man and a woman the police want to speak to.
The Sun says he had £15,000 of designer women's dresses and shoes - all unworn in his home.
The Daily Mirror, meanwhile, says the 31-year-old codebreaker had researched bondage websites.
Putin's pin-up
The Times reports that former Russian spy turned pin-up Anna Chapman has launched a political career in her homeland after being booted out of the US in June.
The Daily Mirror says the 28-year-old has become a firm favourite of Prime Minister Vladimir Putin.
The Sun speculates that "Crossbow Cannibal" Stephen Griffiths - who admitted killing three women - may have killed as many as 14.
The Guardian says the case has put the safety of sex workers in the spotlight.
Season's eatings
There was a Christmas theme to several prominently placed stories and photos.
The Sun tells us Raymond Briggs - the creator of popular children's character the Snowman - hates Christmas.
An unusually fat squirrel in Michigan is pictured in the Daily Express and the Times, which asks "Who ate all the nuts? Let's weigh up the evidence".
And the Guardian is among the papers to publish the image of a tree outside a home in Yeovil which has been pruned to resemble a giant Christmas pudding.