Child charity scheme at risk from local government cuts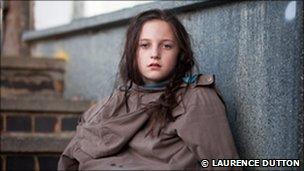 Across the country, small scale projects to help vulnerable people are coming under threat because of the squeeze on public finances.
If The Children's Society ever believed that a successful 29-year history of working with young runaways in Manchester would protect them in the current funding climate, that thought is now being reconsidered.
The money could soon run out for its Safe In The City programme, and the charity believes there could be serious repercussions for the children they help.
Just one of their hundreds of cases, a 14-year-old girl, is being visited by two workers from the charity after being referred to them by the police.
Officers have been called out three times recently to find her, after she ran away from home. Police call it "the blue light taxi service" and say it is a drain on their stretched resources.
The workers, Mari Gibson and Elise Noblet, are gently talking to the girl - who cannot be named - and her mother. The young teenager seems a little unsure of what all the fuss is about.
"She'll just go anywhere, with anyone," says her mother, with a despairing shake of the head. "I don't think that she doesn't care. She doesn't seem to understand the consequences."
"At the moment, she's lad-mad, and I don't think she understands the consequences of that either. I prevented her getting pregnant recently."
By way of explanation her daughter says she is feeling stressed because her dad was recently sent to prison for 18 months.
Mari and Elise see this kind of case all too often. This year they have taken on 265 runaways, most of them aged about 13 or 14. In the last 12 months 5,675 children were reported missing from home in Greater Manchester.
"Going missing from home is often just a trigger," says Mari. "There's normally a whole host of things that are behind that, which we will look to explore."
"For a lot of young people running away is a coping mechanism," adds Elise. "It's how they deal with very complex lives, and once you build a relationship with them they start to understand that running away doesn't have to be an option, that they can develop safe strategies to deal with their lives."
"But for some young people running away is actually a safer option than staying at home," concludes Mari.
At a children's home in the city centre, Mari and Elise are visiting another young girl with whom they are currently working.
After a long history of uncontrollable behaviour, she was taken into care earlier in the year. She still runs away regularly, and says at one point that the police were being sent out to find her on almost a daily basis.
Girls like her, living in care homes, are particularly at risk from older men, who target them to become victims of child sexual exploitation. But at least with this 14-year-old the message does seem to be getting through.
"One day I was walking to the shops and a man got out of his car and told me he knew me and asked me loads of questions. But I ran away from him and came back to the home," she recounts, "because I remembered one of those sessions and the things that you told me about staying safe."
The Safe In The City programme, helping teenage runaways, used to be paid for by Greater Manchester Police and Manchester City Council.
But financial pressures forced the police to withdraw funding, and The Children's Society is concerned that the council might feel it has to do the same.
The service costs about £95,000 a year to operate, a relatively small amount of money compared with the multi-million pound cost of child care services.
"The funding has never been this scary, this unpredictable, before," says project manager Donna Chadwick.
"I've always had a sense that something will come up. But this time our sole funder is the local authority and there are no pots of money around at the moment."
"We are looking hard, but if the funding gets cut Safe In The City will no longer be."
Manchester City Council is currently under huge pressure and last week it found out that its government funding was being cut by 25%.
With it needing to find some £100m worth of savings in the next financial year, many organisations like this one will be wondering if anything is sacred.
Andrew Bomford was reporting for Radio 4's PM programme broadcast daily, Monday to Saturday, at 1700 GMT.
Related Internet Links
The BBC is not responsible for the content of external sites.