Royal car attack police will not be disciplined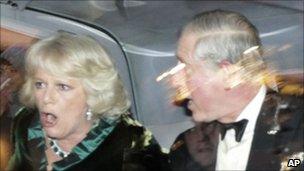 Scotland Yard has said no officers will face disciplinary action after the Prince of Wales and Duchess of Cornwall were caught up in the fees protests.
Their car was attacked by protesters and "contact" was made with the duchess in London's West End on 10 December.
There have been suggestions that royal protection officers ignored advice to avoid Regent Street.
Met chief Sir Paul Stephenson ordered an internal review, which has been passed to Home Secretary Theresa May.
It was reported by the Daily Mail that royal protection officers were warned by a police colleague not to drive down Regent Street 15 minutes before the couple's car was attacked.
But the advice, logged in official police records, was not followed and the couple's royal limousine was driven straight into the area, the paper said.
Several protesters launched an attack on their Rolls-Royce. It was kicked, splashed with paint and a window was cracked to chants of "off with their heads".
Sir Paul praised officers for their "enormous restraint" during the incident, suggesting those responsible for the damage to the car were lucky not to be shot.
Assistant Commissioner John Yates, who controls the specialist operations wing of the Met, said changes were made following the incident which were "already proving effective".
"This was a serious incident. It is important that we understand how it happened and any lessons that can be learned for future protection operations," he said.
"We are never complacent about protection and the report highlights the fact that the Royal family undertake several thousand official engagements every year without incident."
Mrs May said: "I have spoken to the Assistant Commissioner John Yates and we are both clear that lessons can and should be learnt, in particular around key processes and better support structures in a public order environment.
"I have every confidence this will now be done."
Meanwhile, Scotland Yard also said further arrests have been made over the demonstrations against university tuition fee rises.
A total of 74 people have been arrested in relation to the disorder at Millbank on 10 November, 48 in connection with the 24 November protests and 46 over those on 10 December.
The violence on 10 December came on the day MPs voted to allow university tuition fees to rise to up to £9,000 per year in England.
Prime Minister David Cameron condemned the violence and Scotland Yard said it had launched a "major criminal investigation" into student disorder between 10 November and 10 December.
Related Internet Links
The BBC is not responsible for the content of external sites.