Papers cover festive getaway woes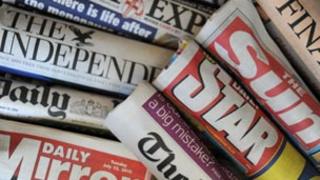 The newspaper headlines on Christmas Eve make depressing reading for rail travellers.
"Festive getaway derailed by lack of trains," according to the Daily Telegraph.
The Daily Mail says: "Return ticket to chaos" because passengers returning to London on Boxing Day will be hit by strikes on the Underground.
The paper accuses the rail unions of using Christmas as another opportunity to inflict misery upon the public.
Flu fears
The rise in the number of flu cases around the country is the Guardian's main story.
It says concerns over the spread and virulence of the outbreak are increasing among health experts.
The chief anxiety is that the predominant strain is H1N1 swine flu, now coming around for a second season.
The Independent says the severe weather and economic outlook is making for a bleak winter - but most people are doing their best to be cheery.
The Financial Times is cheered up by what it calls a powerful end-of-year rally on the 100 share index.
This pushed through the 6,000 mark on Thursday for the first time since the financial crisis began in September 2008.
Hangover cure?
Several papers report how the family of the missing Bristol woman, Jo Yeates, are facing an anxious Christmas.
Her parents' appeal for help in finding her make the lead for both the Daily Mirror and the Sun.
The Telegraph has some advice for those who overindulge at Christmas - stock up on honey as well as alcohol.
It says scientists believe the natural sweetener is a great way to help the body deal with a hangover.
According to the Royal Society of Chemistry, fructose in honey is essential to help the body break down alcohol into harmless by-products.
And scientists say serving it on toast adds potassium and sodium, which helps the body cope with the alcohol.