Papers cover festive getaway woes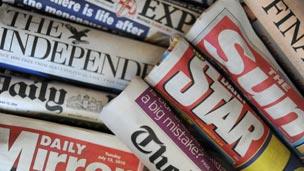 The newspaper headlines on Christmas Eve make depressing reading for rail travellers.
The paper accuses the rail unions of using Christmas as another opportunity to inflict misery upon the public.
It says concerns over the spread and virulence of the outbreak are increasing among health experts.
The chief anxiety is that the predominant strain is H1N1 swine flu, now coming around for a second season.
This pushed through the 6,000 mark on Thursday for the first time since the financial crisis began in September 2008.
Several papers report how the family of the missing Bristol woman, Jo Yeates, are facing an anxious Christmas.
Her parents' appeal for help in finding her make the lead for both the Daily Mirror and the Sun.
It says scientists believe the natural sweetener is a great way to help the body deal with a hangover.
According to the Royal Society of Chemistry, fructose in honey is essential to help the body break down alcohol into harmless by-products.
And scientists say serving it on toast adds potassium and sodium, which helps the body cope with the alcohol.
Related Internet Links
The BBC is not responsible for the content of external sites.