Acpo calls for debate over prostitution laws
By Chris Buckler
BBC News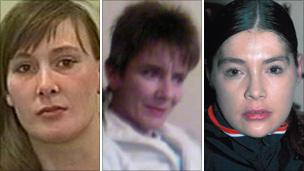 A debate is needed about changing the prostitution laws, the Association of Chief Police Officers (Acpo) has said.
Deputy Chief Constable Simon Byrne, Acpo's lead on prostitution and sexual exploitation, has also called for the funding of a national database of men suspected of attacking sex workers.
He was speaking after the murders of three women who worked as prostitutes in Bradford, West Yorkshire.
Earlier this month, Stephen Griffiths was jailed for life for the killings.
Griffiths, 40, from Bradford, admitted murdering Suzanne Blamires, 36, Shelley Armitage, 31, and 43-year-old Susan Rushworth.
Mr Byrne said "any murder [was] one too many and if we can do something simple and effective to stop that then we should do so".
In many cities across the UK, details are already gathered about so-called "ugly mugs" - men who have been violent or threatening towards sex workers.
But they are separate schemes and information is not shared between the different projects, which campaigners argue leaves many women vulnerable.
"Someone can rape in Liverpool and the sex workers in Manchester would not necessarily be aware," said Shelly Stoops, of support service the Armistead Street Project in Liverpool.
"We need something to co-ordinate and link up all the information... and something that the police can look at on a national level and see patterns and trends of offending."
Late at night "ugly mugs" leaflets are handed out in Liverpool by outreach workers, along with condoms and advice.
Some women who work as prostitutes in the city insist the scheme has prevented them from being attacked.
Mr Byrne said: "There is another dimension - there is a significant cost to investigating a murder.
"When times are tough and you have all the austerity and revolution going on in the public service... there's some hard [edged] maths to be done here.
"If you can invest a small amount of money in rolling the scheme out, you can prevent an awful lot of crime," he said.
The Home Office says it has been carrying out a feasibility study into the possibility of a national scheme and it will be considering its recommendations.
But some people involved in sex work want more fundamental changes to the legislation surrounding prostitution, such as designated red-light zones or decriminalised brothels.
In the UK selling sex in itself is not illegal, but brothels and street prostitution are against the law.
"It means the people that are there to protect you, can also arrest you," said Rosie Campbell of the UK Network of Sex Work Projects, "so [sex workers] can be reluctant to go the police."
In Blackpool the authorities have been cracking down on prostitution.
Joanne Andrew, who owns a massage parlour in the town, was recently convicted of running a brothel.
The law only allows one person to sell sex in a property. To avoid a further prosecution she says women have had to leave the relative safety of her building, to work on the streets.
"I had a girl who worked for me a while ago, who was assaulted and dragged into a van by three guys," said Ms Andrew.
"She came back and asked me for a job but I couldn't give her one."
No one from Blackpool Council was available to discuss the issue of safety but in a statement they said: "We are committed to cleaning up Blackpool and that includes a zero tolerance approach to illegal activities such as prostitution.
"This will involve taking the strongest possible action, including prosecution."
For most police forces prostitution is not a priority.
With shrinking budgets the police tend to concentrate on cases where they suspect people have been trafficked or forced into sex work - although different forces have different strategies.
Acpo says it is time to examine whether suggestions like designated red-light zones or decriminalised brothels would help to improve safety.
"Perhaps the law does need changing - some of it is frankly complicated," said Mr Byrne.
"We'd be keen for a dialogue to see if there's a better way of managing the problem - be it ideas around criminalising some parts of it and not others.
"I think it's time for that debate."
The Home Office said that it plans to publish guidance in the spring on how best to police and deal with problems linked to prostitution.
Britain's Prostitutes - Life on the Edge will be shown over the New Year's weekend on the BBC News Channel.
Related Internet Links
The BBC is not responsible for the content of external sites.