Littlegossip website reopens after bullying complaints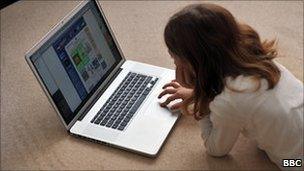 A website for young people to share gossip has been shut down and then reopened for over-18s only, following protests about cyber-bullying.
Some teachers and parents had alleged Littlegossip.com was being used as a platform for children to post personal and sexual smears against their peers.
The site now says it is for adults only but BBC News has found many schools and their pupils still using it.
Users can post gossip anonymously about people at their college or university.
Other users can then vote on whether the posts are true or false.
However, school pupils have been known to use the site.
One example about a named boy at a well-known boarding school says: "Please stop taking drugs the whole time, it's not cool."
Of a girl at the same school one user has written: "Those thunder thighs chug round school. Stop cheating on your boyfriend and sort out the acne. Not attractive."
Many posts also contain sexual or racist abuse.
One concerned father, named only as Dave, contacted the BBC to warn other parents about the site.
"It's cyber-bullying at its worst," he said. "Seriously, kids are going to take their lives because of this site."
Dave said his daughter, who attends a college in Surrey, couldn't believe what was said about her friend.
"She was fascinated by it - but then she saw so much hate on there."
The school involved has blocked access to the site and said it was "extremely concerned about the malicious potential of this website".
A spokeswoman added: "We are... frustrated at the difficulties involved in taking effective action against the site itself and against individual posters who remain anonymous."
Many other schools and organisations have condemned Littlegossip.
The National Association of Head Teachers said it harmed the lives of both teachers and pupils, and has called for it to be closed down.
Emma-Jane Cross from the charity Beatbullying said the site was worrying because "it seems to have the sole purpose of identifying and victimising vulnerable young people" - something she described as "unacceptable".
She added: "While social networking sites are not intrinsically bad, it is vital that where incidents of bullying and harassment take place online, swift and decisive action is taken to protect our children and young people.
"In this instance, we would invite government and internet service providers to work with us and take collective responsibility to ensure websites like these are taken offline as a matter of urgency."
But Littlegossip said it had introduced measures to fight cyber-bullying.
In an e-mail to BBC News, it said: "Users need to confirm their gossip is about an adult, doesn't provide personal information such as phone number and is not racist and more."
"In addition to that we took the important decision to remove all the schools from the site, even if 18 year olds study in those schools."
The website appeared to shut down for a 24-hour period until Thursday, during which it posted a Facebook announcement that school groups would be removed.
But when it came back online, the site continued to carry sexual and racist abuse, as well as telephone numbers. Several school groups also continued to appear on its pages.
Chief executive of the Independent Schools' Council, David Lyscom, confirmed that children could still use the site.
"Although it pretends to be for 18-year-old users only, you just click a box and you can get through to the site, he said.
"Some of our schools are still on there."
The site has been investigated by the Child Exploitation and Online Protection Centre (Ceop), which said it had "come out of nowhere."
A spokesman confirmed Ceop had contacted Littlegossip to advise on child protection, and he advised children not to visit the site as they were likely to see harmful content or experience cyber-bullying.
Related Internet Links
The BBC is not responsible for the content of external sites.