London 2012 Olympics: 2m signed up, say organisers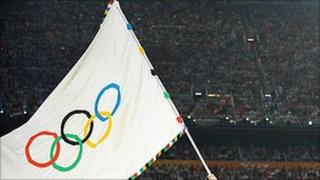 Two million people have signed up for tickets for the London 2012 Olympics, chief executive Paul Deighton has said.
Organisers were preparing for the "mind-boggling" task of co-ordinating sales, he said, as well as planning and managing seats for the 8.8m tickets.
The London 2012 organisation needs to raise 25% of its revenue from ticket sales and generate £2bn from the private sector.
Some 6.6m tickets for the public go on sale in March 2011.
'Extraordinary demands'
Mr Deighton said: "The sheer scale of this is mind-blowing. Just the operational stuff is mind-blowing."
He added that he expected the number of people on the organisers' database to rise to 2.5m by the time tickets were made available.
"It is a year of extraordinary demands in getting ready for the Games and in terms of operational delivery," he said.
Officials have gone back on a pledge made in November 2004 that prices would begin at £15 with at least half costing £30 or less.
Now organisers say 90% of tickets will be £100 or less, 66% less than £50 and about 25% £20 or less.
Adult tickets for an Olympic event start at £20 and end at £725 for the most expensive seats at the 100m athletics final.
Seats at the opening ceremony will cost between £20.12 and £2,012.
Mr Deighton insisted said it had been necessary to make "adjustments" to the pricing structure.
He added: "Those people who say they are not cheap enough are the people who would be complaining if we could not sell enough tickets that we would have to go back to government."