Newspaper review: Papers' thoughts for missing woman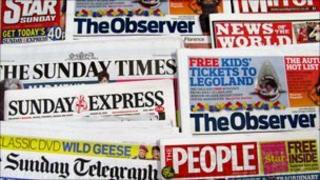 The anguish felt by the family and friends of missing Joanna Yeates is shared by the Boxing Day papers.
The Observer reports that a website, set up to assist the search for her, carries a message urging people to spare a thought "for those who will not be having a merry Christmas".
Joanna's father, David Yeates, tells the Sunday Telegraph he would be relieved if the body found near Bristol was confirmed that of his daughter.
At least, he says, he would not go to his grave wondering where she was.
Festive workers
The papers are back at work and they feel moved to honour others who had to spend Christmas doing their jobs.
While Britain "slumped on the couch", says Independent on Sunday, "almost a million of us" had to clock in.
"We salute them", says the People, which extends its praise to Prince William who was on shift as a pilot with his RAF search and rescue team.
The paper also notes there were 88,000 nurses, 42,000 nursing auxiliaries and 160,000 care assistants on duty.
White Christmas
Ask how was Christmas for you, and the answer is simple - cold.
The Mail on Sunday thinks it may have been "our coldest ever".
"We dream of having white Christmas," says the Sunday Mirror, "but no-one wishes for a freezing cold one".
The Daily Star Sunday predicts that it is going to get worse, with blizzards and more snow. The paper's headline is "Deep Freeze Christmas".
And Transport Secretary Philip Hammond tells the Sunday Times he wants fines for weather disruption to airports.
Shopping 'frenzy'
Faced with "economic woes and the worst winter for a generation," the country is, according to the Sunday Express, "eating its way out of recession".
And, now that the turkey has been carved, they all expect shoppers to turn their attention from food and drink to the sales.
The Observer thinks a "frenzy" of internet shopping has already begun.
But the Sunday Telegraph thinks many of the payments will be made by credit card - putting people further into debt.