Terror suspects in custody over 'pre-Christmas plot'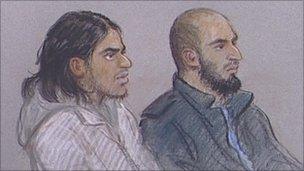 Nine men charged with conspiracy to bomb high-profile London targets in the run-up to Christmas have been remanded in custody after appearing in court.
They were also charged with preparing for terrorism by agreeing potential targets and testing materials.
The court was told that one of the potential targets was the London Stock Exchange.
The men are aged between 19 and 28 and three are from Cardiff, two from London and four from Stoke-on-Trent.
The prosecution told the court the police investigation indicated potential targets in the days before Christmas included the US Embassy, political and religious figures.
The men all appeared at Westminster Magistrates' Court on Monday.
They were arrested during raids which took place in Birmingham, London, Cardiff and Stoke-on-Trent on 20 December.
Three others arrested at the same time - two from Cardiff and one from London - were earlier released without charge.
The raids had been co-ordinated by the West Midlands Counter Terrorism Unit.
Those charged are accused of conspiring on dates between 1 October and 20 November to cause an explosion.
The accused men have also been charged under 5(1) of the Terrorism Act 2006 of engaging in conduct in preparation for acts of terrorism on dates between 1 October and 20 December.
They are alleged to have done this by carrying out reconnaissance, agreeing potential targets, downloading and researching materials and igniting and testing incendiary material.
BBC correspondent Jon Brain said the men had appeared before the court in groups.
Mohammed Moksudur Rahman Chowdhury, 20, of Stanliff House, Tower Hamlets, and Shah Mohammed Lutfar Rahman, 28, of St Bernard's Road, Newham, have been remanded in custody until 14 January.
Gurukanth Desai, 28, of Albert Street; Omar Sharif Latif, 26, of Neville Street, and Abdul Malik Miah, 24, of Ninian Park Road, all from Cardiff, have to appear at the Old Bailey on the same date.
Nazam Hussain, 25, of Grove Street; Usman Khan, 19, of Persia Walk; Mohibur Rahman, 26, of North Road, and Abul Bosher Mohammed Shahjahan, 26, of Burmarsh Walk, all from Stoke-on-Trent, were also remanded in custody.
Our correspondent said the prosecution outlined the details of the alleged plot but because of legal reasons, these have been kept out of the public domain for now.
Five of the defendants are also facing a third charge of possessing documents and records containing information likely to be of use to terrorists.
Lord Carlile, the independent reviewer of UK counter-terrorism laws, told MPs` at the time of the arrests that the allegations were of a "significant" plot.
Related Internet Links
The BBC is not responsible for the content of external sites.