Newspaper review: Papers surprised by sales splurge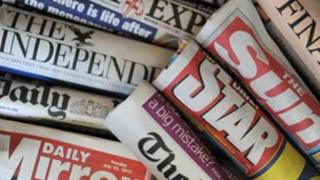 One picture dominates the front pages, including that of the Sun; crowds forcing their way through Selfridges in London as the post-Christmas sales commence.
The Daily Star reports that £5.6m a minute was spent around the country as retailers cut prices by as much as 75%.
The Daily Telegraph says the Boxing Day sales appeared to be the busiest ever.
It suggests the impending VAT rise motivated those splashing out on "more expensive items like furniture and flat screen TVs".
'Humiliating retreat'
The Daily Mail reports that some "vital cancer operations are being cancelled" because hospitals need the intensive care beds to cope with flu victims.
The paper says experts are warning that the UK is "teetering" on the brink of a flu epidemic - the first for a decade.
The Daily Mirror says Education Secretary Michael Gove's decision not to pull funding from a scheme giving children free books is a "humiliating retreat".
The proposal had been criticised by writers including Poet Laureate Carol Ann Duffy, Ian McEwan and Philip Pullman.
But in the Daily Express, author Bill Masters calls the Bookstart scheme "irrelevant", saying children would still be able to visit their local libraries if families needed access to free books.
He adds: "Literary luvvies show no recognition of economic realities".
The Times has made Prime Minister David Cameron its 2010 "Man of the Year".
It says it bestowed the title because of his bold move creating the coalition government and the way he has become a dominant news figure over the year.
Traditional seasons
But any warm glow Mr Cameron gains from the accolade may be extinguished by the poll on the front of the Guardian.
It suggests a fall in support for the coalition. In May 59% of those polled believed the coalition was the right decision for the UK but the figure now appears to be 43%.
The Times says that 2010, with its cold winters and early summer has been a year of more traditional four seasons.
It quotes Matthew Oates from the National Trust who explains this means animals were able to hibernate properly with insects, puffins and the netted carpet moth having all done generally well.
The Independent reports that 84-year-old Playboy magazine founder Hugh Hefner is now engaged to a playmate.
Mr Hefner tweeted he had had the "happiest Christmas weekend in memory".