Crime scene laboratory closures discussed in the press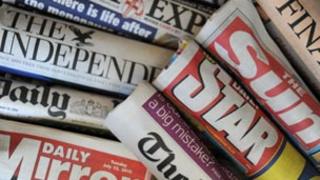 Government plans to close publicly-funded crime scene laboratories are discussed in the day's papers.
The Times carries a warning from the UK's leading forensic scientists over the potential closures.
They say that this would mean Britain will lose its place as a world leader in crime-scene investigation.
Professor Sir Alec Jeffreys, who pioneered DNA fingerprinting, is among 33 forensic scientists who have written to the paper expressing their concerns.
In the Daily Telegraph the education secretary warns that pupils in England and Wales are not being adequately prepared for university studies by A-levels.
Michael Gove also says the government intends to reform the exams watchdog so it can force tough changes to A-Levels.
Foreign spending
The Daily Express is angry that Britain's foreign aid spending is likely to increase by £40m to £753m.
The increase happening is because other countries are unable to pay full contributions to a UN disaster fund.
The Daily Mail is worried that Christian school assemblies may finish.
At present, under the 1944 Education Act, pupils are expected to take part in a daily act of worship of a "broadly Christian" character.
The paper says the National Secular Society wants that Act to be dropped because it infringes human rights.
But the Independent columnist, Tom Sutcliffe, suggests that it is fundamentally un-Christian to make children take part in prayers.
Gift solution
The Guardian reports on a potential solution for unwanted Christmas gifts.
An internet retailer in the United States has apparently devised a system which allows people to veto unwanted gifts before they have been sent.
The intended recipients are able to convert such presents into credit, with which they can buy other things, without the gift-giver being informed.
And the Express says there has been a large increase in the number of UK people who are keeping chickens as pets.