Newspaper review: Papers cheer England retaining Ashes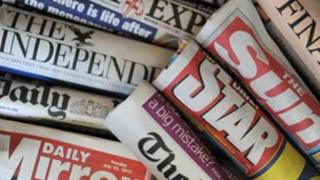 England's victory over the Australian cricket team in Melbourne - which saw them retaining the Ashes - is dwelt on at length in the day's papers.
The Times says the performance is the start of a new age of "greater glory" for the team. Chief sports writer Simon Barnes says England are now "eleven seriously decent players, with reserves able to step in without weakening the side".
The Financial Times says England did "everything right" as the Australians watched on "in some awe".
But for the Daily Mail, Australian national David Saker is England's unsung hero. The coach was said to have provided insight into the country's pitch conditions.
The Daily Telegraph welcomes coalition proposals to allow people to donate money to charity when using cash cards.
Rising unemployment
The newspaper says the "ingenious" measure belongs to a deep tradition of charity in Britain.
The Independent reports that next year unemployment will rise to its highest level for 17 years.
It argues that the jump is proof that Chancellor of the Exchequer George Osborne is cutting public spending too fast.
The Daily Express says the government should introduce a "fuel duty stabiliser", as was suggested in the Conservative election manifesto.
It would mean when crude oil prices were high, fuel duty would be lower.
The newspaper says a forthcoming rise in fuel costs will see the average driver £100-a-year worse off.
The Sun claims to have seen an e-mail which suggests that customs officers at Heathrow Airport were told not to "actively seek" passengers smuggling drugs because of staff shortages.
Elton 'too old' for dad?
The UK Border Agency tells the paper the e-mail should "never have been sent" and promises not to implement the policy.
Several newspapers debate the announcement that Sir Elton John and his partner David Furnish are new fathers of a boy born to a surrogate mother.
The Daily Mirror asks: "Is Elton too old to be a dad?"
But the Sun says there is "every sign" the baby will have a happy and stable family life.
The Times reports how British engineers are travelling to a former prisoner-of-war camp in Poland which was the inspiration for the film, The Great Escape.
The team will excavate a tunnel which was dug primarily as an emergency escape route and never used.
Meanwhile the Daily Telegraph reports a Christmas card was successfully delivered to a house in Norfolk - despite being addressed to "A road near the golf course in Thetford".
A Royal Mail spokesman said: "Local knowledge plays a large part in identifying the correct recipients in such cases."