Funeral held for BBC's Brian Hanrahan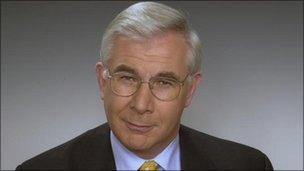 The funeral of Brian Hanrahan, the BBC correspondent who recently died of cancer, has been held in north London.
Mr Hanrahan, who was best known for his coverage of the Falklands War, died at the age of 61 after a short illness.
BBC colleagues including Nicholas Witchell, Jeremy Bowen and James Naughtie were among mourners at Saint Monica's Catholic Church in Enfield.
A bouquet of yellow roses adorned Mr Hanrahan's coffin as it was carried into the church grounds.
BBC World News editor Jon Williams said the service was packed with Mr Hanrahan's family, friends and co-workers, along with his widow, Honor, and daughter, Catherine.
"More than one speaker talked of Brian's integrity and of his humanity," Mr Williams said.
Mr Hanrahan's reporting spanned the reshaping of Nato and the EU, as well as conflicts in Bosnia, Kosovo, and the Middle East.
As the BBC's Far East, and then Moscow correspondent, he watched dramatic changes unfolding in China and Russia.
He covered the Tiananmen Square massacre and the fall of the Berlin Wall.
But it was the Falkands War in 1982 that made his reputation.
Mr Hanrahan famously counted the returning Harrier jets to ensure he could report the story and get round MoD restrictions.
He said: "I'm not allowed to say how many planes joined the raid, but I counted them all out and I counted them all back. Their pilots were unhurt, cheerful and jubilant, giving thumbs-up signs."
Speaking after his death on 20 December, former war reporter Martin Bell paid tribute to a "quiet, decent man" who was "very thorough and very good at his job".
"I never heard an ill word said about Brian Hanrahan," he added.
Former BBC war correspondent Kate Adie described him as an "extremely dogged and factual and intelligent reporter who saw things in front of him and described them graphically".
"He was one of those voices you could rely on," she added.
Former Soviet leader Mikhail Gorbachev and Foreign Secretary William Hague have also paid tribute to Mr Hanrahan.