Hanratty family in new appeal against murder conviction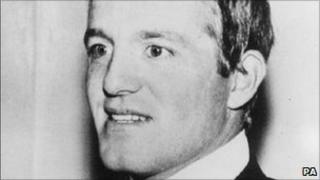 The family of James Hanratty, who was hanged for murder in 1962, are planning a fresh appeal against his conviction.
Hanratty was found guilty of shooting dead a civil servant and raping and shooting his lover in a lay-by near Bedford in August 1961.
A first appeal failed eight years ago, when DNA from Hanratty's exhumed body matched samples from the murder scene.
But his family want the case referred to the Court of Appeal again, arguing that the samples were contaminated.
The family's lawyers are now preparing a case to go before the Criminal Cases Review Commission early in the new year.
His family say that in the years since the hearing, there has been growing evidence of the fallibility of DNA testing and the high risks of contamination.
Blood samples
Michael Hanratty, James' brother, is convinced that samples used in the 2001 tests were contaminated and that the conviction should be overturned.
"We are talking about a crime scene sample being in the same folder as all of (James') fibres, blood samples, hairs - all in the same folder," he said.
He added: "Jimmy didn't do that (murder). I can assure you that, 100%, 120%. He never hurt a soul.
"The day before the execution, his last words were 'Mick, I am completely innocent. Look after mum and dad. Keep an eye on the newspapers, this in years to come will come out'.
"Now he would never have said that, it would have been easier to say nothing and just go."
Previous claims that the DNA samples were contaminated were dismissed by judges as fanciful.
But Sir Geoffrey Bindman, the family's solicitor, said DNA testing was not always reliable.
"There's a difference between whether DNA is infallible and reliable and what the evidence is that the particular substance from which the DNA was taken is linked to the crime," he said.
"That's where the doubts arise and they can arise from different ways if the DNA isn't tested properly - the tests maybe defective, there may be contamination. There are a number of ways you can undermine DNA evidence."
'Strong case'
James Hanratty, from north London, always protested his innocence and asked his family to clear his name before going to the gallows at the age of 25.
He had been found guilty of the A6 murder, named after the road on which 36-year-old scientist, Michael Gregsten, was shot dead.
His 22-year-old girlfriend, Valerie Storie, was raped, shot five times and left for dead.
She survived and picked out Hanratty at an identity parade from her hospital bed, where she lay paralysed from the waist down.
The jury did not believe Hanratty's story that he was 200 miles away in Rhyl, north Wales, at the time of the attack, and convicted him of murder.
Forty years later, Hanratty's conviction was upheld at the Court of Appeal in May 2002 when three judges headed by Lord Woolf, the Lord Chief Justice at the time, ruled that DNA evidence established his guilt "beyond doubt".
Lord Woolf said the DNA evidence "made what was a strong case even stronger".