Foreign drivers 'escaping millions in parking fines'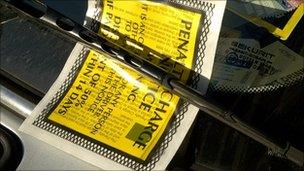 Millions of pounds in parking fines have been written off by councils over the last two years because they could not trace drivers of foreign-registered vehicles, figures show.
The unpaid fines were revealed after 20 UK councils and police forces responded to a Freedom of Information request.
Campaign group the Sparks Network said authorities would keep losing money unless the EU shared data.
UK transport minister Mike Penning said it was "a complex area".
But he said the government would do all it could to ensure effective cross-border co-operation.
All of the 20 councils and police forces that responded had ferry terminals, ports and other major transport hubs near or in their area.
London, Portsmouth, Newcastle upon Tyne and Edinburgh were among the areas with the highest value of written-off tickets.
Westminster City Council said that between July 2007 and October 2010, 45,437 tickets issued to foreign-registered vehicles had been written off because the driver could not be traced - with £3.2m still owed.
Lee Rowley, the council's cabinet member for parking, said British taxpayers "could no longer foot the bill for foreign motorists who seem to think the rules of this country do not apply to them".
"We would like to see a more rigorous system put in place to hold these drivers to account and send a clear message that this blatant disregard of the law will not be tolerated," he said.
Portsmouth City Council said between April 2008 and 31 October 2010, £110,965 had been written off in parking fines issued to foreign-registered vehicles.
The council said: "On the expiry of a penalty charge notice (28 days), the DVLA [Driver and Vehicle Licensing Agency] will advise registered keeper details and if they are overseas and outside Portsmouth City Council jurisdiction, then Portsmouth City Council cancels or writes off the amount."
Newcastle City Council said £84,470 had been written off in unpaid tickets between April 2008 and 6 December 2010.
Meanwhile, Edinburgh City Council said £233,993 had been written off in the 2008/09 financial year and a further£211,051 between April 2009 and 1 October 2010.
A spokeswoman said there were a "number of reasons why a parking ticket could be written off".
"It could be because the driver cannot be traced; it could also be because signs or road markings were missing, or it could be because the parking attendant made a mistake during the ticket issue," she said.
Other councils said they either did not hold the details or a search of their records would exceed limits under Freedom of Information Act requests.
Bill Blakemore, director of the Sparks Network, an association of public authorities that campaigns for more effective cross-border traffic enforcement, said local authorities would carry on losing money until the government set up working arrangements with other European countries to share ownership data.
"Councils need to be able to quickly and easily identify foreign vehicle owners through their number plates, as some continental countries already do," he said.
"But so far the Department for Transport has not chosen to co-operate with our EU partners in this way."
Mr Penning said foreign drivers were subject to the same rules as drivers from the UK and must abide by parking rules.
"Local authorities have a range of enforcement options to target the vehicle of any motorist who consistently breaks parking laws and does not pay penalty charges to ensure that payment is secured," the minister said.
"This is a complex area and we will do all we can to ensure effective cross-border co-operation."
Related Internet Links
The BBC is not responsible for the content of external sites.