Rail season tickets for some commuters 'pass £5,000'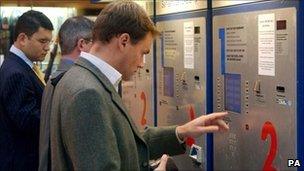 The cost of some annual season tickets will exceed £5,000 for the first time when prices go up on Sunday, the Campaign for Better Transport has said.
Season ticket prices across the UK will rise by an average of 5.8%, while London bus and Tube fares go up 6.8%.
CBT said some Kent commuters would have to bear rises of nearly 13% and warned of people being priced off the trains.
Train operators said "times were tough" for many people, but the increases ensured investment in the railways.
A spokesman for the Association of Train Operating Companies said even with the 2011 increases the money from tickets covered only half the cost of running the railways, with the rest falling to taxpayers.
He said above-inflation fare rises were the result of government policy which has "sought to sustain investment in the railways by reducing the amount that taxpayers contribute and requiring passengers to pay more".
But CBT said it was unfair that millions of commuters already facing pay cuts and reduced hours in their jobs were now having to pay more to get to work.
It also said higher fares were pricing people off the rail network, risking increased road congestion in the nation's cities.
The fare rises meant some travellers were being asked to pay 20% of the average UK salary for their annual season ticket, they said.
This was the equivalent, in percentage terms, of transport secretary Philip Hammond MP being asked to pay £27,034 for a season ticket, campaigners added.
CBT chief executive Stephen Joseph said: "Commuters feel like they are being pick-pocketed by the government, expected to pay more year on year for the same poor quality service.
"Even with the promised extra investment, many passengers will see no actual improvement to their daily commute.
"Politicians need to start living in the real world and understand that people simply cannot afford to pay a fifth of their income just to do a day's work. The government pledged to create fair fares and we all expect them to keep that promise."
The CBT will launch a campaign entitled Fair Fares Now next week, which is being backed by TV presenter and actor Michael Palin.
It cites an annual season ticket for commuters travelling on services between London and Tonbridge, in Kent, as one of the worst cases - rising 12.7% to £5,192 in 2011.
A season ticket on the First Capital Connect stopping service between Peterborough and London, which is currently £5,000, will go up to £5,320.
Tickets on the faster East Coast services between the two cities top the £6,000 mark.
Annual tickets between Newcastle and York will also pass the £5,000 mark.
Palin said current fares were "holding travellers to ransom".
"Regular price hikes are no way for the government and train companies to reward their regular customers. Instead of milking them, they should be thanking them for their loyalty with a better, simpler, more competitive fare structure," he said.
Jo deBank, of customer watchdog London TravelWatch, said the hikes in the capital were "staggeringly large" and would "hit Londoners hard".
She added: "Behind these headline [average] figures are some incredibly high increases and some tickets being abolished altogether."
Ms deBank also said the withdrawal of some one-day Travelcards in London would mean "a massive increase for some people and will affect outer London and non-regular travellers particularly".
Transport for London (TfL) said that by switching to Oyster cards - plastic "smartcards" used instead of paper tickets - "most customers should see little increase in their travel costs".
Mayor Boris Johnson said: "I have kept the fares for 2011 at the absolute minimum while still protecting the vital improvements that London's transport network needs. Those improvements include upgrades to the Tube, the delivery of [the cross-London scheme] Crossrail, and maintenance of London's bus network.
"I promised to protect free and concessionary travel for those needing it most and this package does exactly that."
A Department for Transport spokesman said the scale of the UK's deficit meant the government had to make some "tough decisions" about rail fares.
He said: "Revenue from fares enables the government to continue to deliver much-needed improvements on the rail network, improving conditions for passengers and helping to strengthen economic growth."
The 5.8% average main line rail increase in regulated fares - which include season tickets - is based on the July 2010 retail prices inflation (RPI) figure of 4.8% plus 1%. Train companies are allowed, by the government, to use "flex" (flexibility) to average out the increase.
To take account of investment in their line, including high-speed Javelin trains to serve the Olympics site, passengers on trains run by the Southeastern company have an annual regulated fare price-rise formula of RPI plus 3%.
This means commuters in the Kent area will be paying an average of 7.8% more for season tickets from Sunday.
The RPI plus 3% formula will be introduced across the whole network from January 2012.
Related Internet Links
The BBC is not responsible for the content of external sites.