Slogan T-shirt designer Katharine Hamnett appointed CBE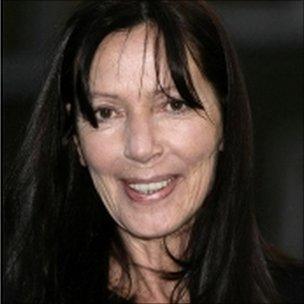 Fashion designer Katharine Hamnett, best known for her protest and political T-shirts, has been appointed a CBE in the New Year Honours List.
The 63-year-old's statement slogans became a staple of 1980s fashion, catching the imagination of a disillusioned generation.
Hoping to stir the political establishment, they included "Education Not Missiles" and "Leaders Suck".
She said of the honour: "It's quite funny, I'm respectable at last."
She added: "I kind of tend to pooh-pooh these kind of things but at the same time it's frightening how nice it is.
"It's seductive. And my friends have been adorable about it."
The designer, from east London, graduated from the Central Saint Martins College of Art and Design in 1969.
On leaving college, she set up a fashion business with college friend Anne Buck, showing their collection in both London and Paris.
In 1979, she launched the Katharine Hamnett label and her first protest T-shirts - "Choose life", "Worldwide Nuclear Ban Now", "Preserve The Rainforests", "Save The World" - followed soon after.
In the age of cruise missile proliferation and the Falklands War, the bold lettering urging change became part of the fabric of dissent.
The 1980s also saw Aids first becoming known as a killer disease, and Ms Hamnett's Use A Condom design tapped into the mood of the age.
In 1984, she was awarded designer of the year by the British Fashion Council.
It was the same year that she famously met the then-Prime Minister Margaret Thatcher at Downing Street wearing a t-shirt with the anti-nuclear T-shirt proclaiming "58% Don't Want Pershing".
It was also the year during which her designs became popular with pop bands and stars including Wham! and Madonna.
In the past decade, she relaunched her T-shirts, making them with organic cotton grown to high ethical and environmental standards.
More recently, Ms Hamnett used her trademark T-shirts to protest against the invasion of Afghanistan, with slogans such as "Stop And Think" and "Life is Sacred".
In 2003 she sent models down the catwalk in London wearing T-shirts shouting "No War, Blair Out" and designed "Not In My Name" and "No War" T-shirts for the Stop The War Coalition march.
She has also called for action on pollution and for Third World debt to be cancelled and become a voice lobbying for major changes in the way the fashion industry operates.
"I was surprised," Ms Hamnet said of being appointed a CBE.
"I had a letter saying I had been recommended for [an honour] but then I thought that actually going through my track record they would change their minds. But it's lovely."
She leads a list of prominent figures in fashion who are honoured in the New Year Honours List.
Beatrix Ong, famed for the luxury shoes that have seen her ranked alongside Manolo Blahnik as a leading contemporary footwear designer, is made an MBE
Raymond Kelvin, chief executive and founder of Ted Baker, is made a CBE
Designer Alice Temperley, who counts actresses Eva Mendez, Sarah Jessica Parker, Sienna Miller, Jennifer Lopez, Demi Moore and Halle Berry among her fans, is appointed an MBE
Tanya Sarne, the designer behind the fashion label Ghost, is made an OBE
Barry Laden, best known as the driving force behind the Laden Showroom in east London's Brick Lane, becomes an MBE for his services to fashion
Julius Schofield, who co-founded fashion designer recruitment service Indesign in 1968, is also made an MBE for his services to the fashion and textile industries.
Someone who "loved clothes" from an early age but did not want to be a fashion designer, has also been honoured.
Triple Oscar-winning costume designer Sandy Powell, who receives an OBE for services to the film industry, studied theatre design at the same college as Ms Hamnett but dropped out after being inundated with offers of work.
Ms Powell, 50, from south London, won her third Oscar earlier this year for The Young Victoria. Her previous wins were for Shakespeare In Love, in 1999 and The Aviator, in 2005.
Of her job, she once said: "A costume designer's contribution is to help make some believable characters, that's all."
Related Internet Links
The BBC is not responsible for the content of external sites.