Newspapers discuss New Year honours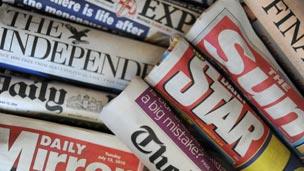 The New Year honours naturally take up a lot of room in all the papers.
While many of the broadsheets print in full the honours list, several of the tabloids are annoyed at the exclusion of several big names from showbiz.
The Express claims Simon Cowell and David Beckham were similarly snubbed while The Sun awards Forsyth an honorary knighthood of its own.
The Daily Telegraph leads on a warning from the prime minister in his New Year message about the terror threat.
It says David Cameron said the threat was "as serious as it has ever been".
He also claims the security services are facing a daily struggle to stop plots which would cost lives.
It says a universal mobile phone charger compatible with almost all new handsets will become available in the coming months.
The paper says the European Commission has released the specifications for the new device to the world's 14 biggest phone manufacturers.
The Commission says the proliferation of chargers is bad for consumers.
The death of the frontman of the 1970s disco group, Boney M, is marked in a number of papers.
But it says his flamboyant outfits, wild hair and bizarre dance routines captivated millions of fans.
The paper notes the band's lasting impact, pointing out their 1978 cover of Rivers of Babylon remains Britain's fifth best selling single of all time.
Related Internet Links
The BBC is not responsible for the content of external sites.