Newspapers review: Papers forecast difficult year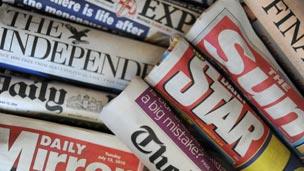 Many of the papers look forward to the year ahead but the mood is pretty downbeat.
A Mori survey in the Independent suggests the UK is entering 2011 in a gloomier frame of mind than most other industrialised countries.
"This is the year", it says, "when the coalition will show its true blue Tory colours."
It says higher prices and lower benefits and wages are to blame, and people will be pushed into bankruptcy once interest rates start to rise.
The New Year also starts with the papers warning about medical crises.
The papers says it takes up to three weeks to develop full immunity, and the outbreak is expected to peak by then.
Many of the papers speculate about The Archers, which will celebrate its 60th anniversary with a special programme.
Related Internet Links
The BBC is not responsible for the content of external sites.