Newspapers review: Papers forecast difficult year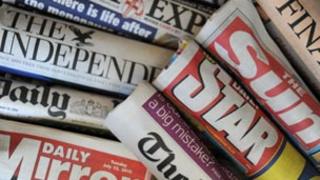 Many of the papers look forward to the year ahead but the mood is pretty downbeat.
A Mori survey in the Independent suggests the UK is entering 2011 in a gloomier frame of mind than most other industrialised countries.
The Daily Mirror warns 2011 will be "difficult" because of what it calls "reckless" cuts by the government.
"This is the year", it says, "when the coalition will show its true blue Tory colours."
'Coalition collapse'
The Daily Telegraph thinks middle-class families will be more than £3,000 a year worse off in 2011.
It says higher prices and lower benefits and wages are to blame, and people will be pushed into bankruptcy once interest rates start to rise.
Peter Oborne predicts in the paper the coalition will probably fragment, and could even collapse under the strain.
The Daily Express talks of a "perfect political storm" gathering, with "fury" about rising petrol costs.
The New Year also starts with the papers warning about medical crises.
The Daily Mail says many GPs have run out of flu jabs, and pregnant women, elderly people and those with chronic illnesses have all been told to try again in a few weeks.
The Independent says experts admit it might be too late for at-risk groups to get the benefit of vaccination.
Life-changing
The papers says it takes up to three weeks to develop full immunity, and the outbreak is expected to peak by then.
Many of the papers speculate about The Archers, which will celebrate its 60th anniversary with a special programme.
The Times headline draws the instant comparison to Coronation Street, saying this one "won't be a tram crash, but it will change lives..."
The Daily Telegraph features a former public lavatory in Norfolk which is expected to fetch £100,000 at auction.
The Daily Mail says visitors will be relieved to know the money raised will go towards building new conveniences.