CBI's Sir Richard Lambert warns over 'rocky' 2011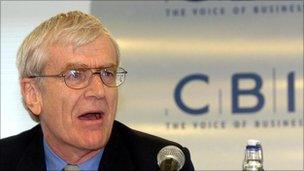 The economy faces a "quite rough" start to 2011, the head of employers' organisation the CBI has warned.
Sir Richard Lambert said: "The first months of the year are going to be the really bumpy, gritty ones."
But he also said there were positive indicators in the economy, including a strengthening of private sector investment.
He predicted the "natural elastic" in the economy would help it recover from the recession.
On an interview with BBC Radio 4's Today programme he said: "We've got VAT going up, I think we will start to see the impact of the cuts on the construction sector a bit more, one or two other things. I think the first months of this year will be quite rough.
"The big question is: 'Will the private sector have the capacity to more than offset the coming weakness in the public sector?' And I think it will, but it's going to be - especially in the first few months - quite rocky."
Sir Richard, who was knighted in the New Year honours list, said there were positive signs including that export orders for manufacturing were picking up "very sharply".
The key factor to watch would be employment, he said.
"If, as we hope, unemployment only rises modestly this year and employment starts to strengthen as the year goes on, then consumer confidence and business confidence will build and the second half of the year will feel better than the first half."
Related Internet Links
The BBC is not responsible for the content of external sites.