Sunday papers: Papers consider austere new year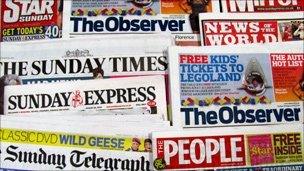 The first Sunday editions of 2011 look ahead to a year of austerity and ponder the future of the coalition.
The paper says senior MPs, including the Chancellor George Osborne, have been accused of "insensitive conduct" after apparently celebrating the New Year with lavish holidays and parties.
It warns the PM the coalition will be in trouble unless a majority of people believe he is leading the nation on a road to redemption.
It says families are to be given vouchers worth £50 to encourage them to buy wholegrain rice, frozen green beans and alcohol-free lager.
The paper says the ideas include legalising the use of cannabis and making it easier to run school trips.
He says people should no longer see property as an retirement investment.
John Roberts says his "reverse marketing" ploy has proved successful in attracting people through the door - even if they only come in to point out what they think is a mistake.
Related Internet Links
The BBC is not responsible for the content of external sites.