Sunday papers: Papers consider austere new year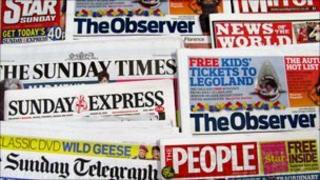 The first Sunday editions of 2011 look ahead to a year of austerity and ponder the future of the coalition.
The News of the World cautions only even-handed cuts will persuade voters the pain is in the national interest.
The Mail on Sunday headline asks: "Are we really all in this together?"
The paper says senior MPs, including the Chancellor George Osborne, have been accused of "insensitive conduct" after apparently celebrating the New Year with lavish holidays and parties.
Political warnings
The Sunday Express warns the UK's fragile economic recovery is under threat from what it calls a "perfect storm" of rising oil prices and fuel duty hikes.
The Observer is just one of the papers with warnings for political leaders.
It warns the PM the coalition will be in trouble unless a majority of people believe he is leading the nation on a road to redemption.
And it tells Labour leader Ed Miliband he must waste no more time explaining to the country what he believes.
Red tape
The Sunday Times brings news of a new government drive to tackle rising levels of obesity and poor levels of fitness.
It says families are to be given vouchers worth £50 to encourage them to buy wholegrain rice, frozen green beans and alcohol-free lager.
The Independent on Sunday has a new year message from Britons after the government asked for proposals on reducing red tape.
The paper says the ideas include legalising the use of cannabis and making it easier to run school trips.
Marketing ploy
Housing Minister Grant Shapps tells the Observer he wants policies to usher in a new age of "house-price stability".
He says people should no longer see property as an retirement investment.
The Sunday Telegraph has a story about the owner of a Bournemouth gift shop who says business is booming after he put up a sign saying customers can buy two but pay for three.
John Roberts says his "reverse marketing" ploy has proved successful in attracting people through the door - even if they only come in to point out what they think is a mistake.