Prison suicide rate in England and Wales fell in 2010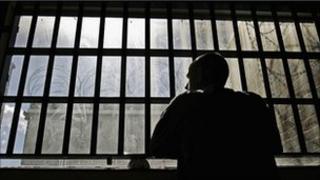 The number of prison suicides in England and Wales fell to 58 in 2010, the Ministry of Justice says.
It is the lowest figure since 1996 and shows a reduction of three on 2009, when 61 inmates suffered a "self-inflicted death".
Of 58 such deaths recorded in 2010, only one was of a female and only four were aged under 21.
Justice Minister Crispin Blunt said the government was "fully committed to reducing deaths in custody".
He said: "Each and every death is a personal tragedy for those who are left behind. So any reduction in the number of self-inflicted deaths in our prisons is welcome news.
"It is important to recognise the good work of all those who continue to care for the most vulnerable prisoners in our custody."
'Hard work'
Michael Spurr, chief executive officer for the National Offender Management Service (NOMS), said the reduction was "testament to the hard work" of staff to prevent self-harm and suicide.
"Working with vulnerable prisoners to ensure we continue to reduce the number of self-inflicted deaths remains a priority for NOMS in 2011," he said.
The number of deaths can vary from year to year by quite a wide margin, so the Ministry of Justice prefers to look at the figures on the basis of a three-year average calculated as the number of deaths per 100,000 of prison population.
On that basis there has been a steady downward trend in the number of prison suicides since 2004.
The average deaths per 100,000 for the three years to the end of 2010 was 71, and has fallen year-on-year since 2004 when it was 130 deaths per 100,000 prisoners.
New guidelines to tackle suicide and self-harm behind bars were published in October 2007 and had been implemented by April 2008, the Ministry of Justice said.
Since 2004 all deaths in prison custody have been investigated by the Prisons and Probation Ombudsman.