Newspapers review: Papers keep prison riot in focus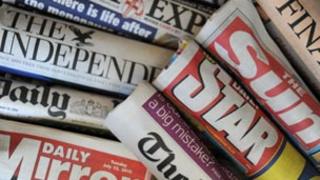 The rioting at Ford open prison on New Year's Eve is still being discussed by the papers.
Justice Secretary Kenneth Clarke is in the Sun's firing line.
In the paper's view, the "Ford Fiasco" is a perfect example of the anarchy Mr Clarke's liberal, touchy-feely approach will encourage.
The paper says the staffing and reports the West Sussex jail was awash with alcohol reduces British justice, yet again, to a laughing stock.
Penal policies
For the Times, the most alarming disclosure is that only six staff were on duty at the time of the riot.
But the Independent says it should not be used as an excuse by ministers to return to the counter-productive penal policies of recent years.
For the Guardian it is important the public policy response to the riot is as objective and focused as possible.
It says many of the answers to what happened lie in Ford itself, rather than in spending cuts or penal policy.
Overflowing bins
The Daily Telegraph says households have been left with up to a month's rubbish after collections were cancelled because of snow and holidays.
It says gardens, driveways and streets around the UK are full of overflowing bin bags, paper, bottles and plastic.
According to the Daily Mail, Britain is facing a "children's epidemic" of swine flu as schools reopen this week.
The paper says hot and crowded classrooms provide the perfect breeding ground for flu.
Roof-hanger
The Daily Express rejects the coalition's reported moves to scrap control orders, which restrict the movement of some terror suspects.
It warns if someone who had been under a control order is implicated in a future terrorist act, then government heads will have to roll.
Many papers are disappointed by the 60th anniversary edition of The Archers that had promised to shock.
The Daily Mail says it was not so much a cliffhanger as a roof-hanger.