Tributes to Afghanistan blast victim Pte Joseva Vatubua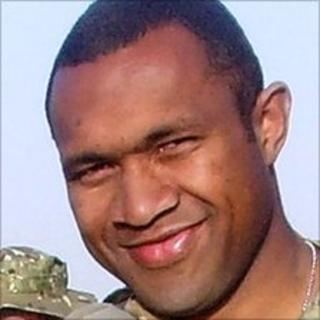 Tributes have been paid to a "hugely loved" soldier killed in an explosion in Afghanistan on New Year's Day.
Private Joseva Vatubua, 24, from the Argyll and Sutherland Highlanders, died on operations in Helmand's Nahr-e Saraj district, the Ministry of Defence said.
The Fiji-born soldier had been serving with 5th Battalion The Royal Regiment of Scotland, targeting enemy positions north of Saidabad Kalay.
He was killed when a bomb hidden in a compound wall detonated.
Having grown up in Fiji, Pte Vatubua joined the British army in 2007 and went on to represent the force at rugby sevens.
A Ministry of Defence (MoD) statement said he had a bright future, with hopes of becoming a non-commissioned officer, and had already caught the eye as "a young man who would rise through the ranks".
He is survived by his wife, Claudette.
His family spoke in a statement of his pride at representing the army at rugby and singing with his battalion's Fijian choir.
"Joseva is a hugely loved man who we will always miss but never forget," the statement added.
'Big Joe'
His commanding officer Lt Col Adam Griffiths also paid tribute to a "loyal, well-loved and respected" soldier, nick-named "Big Joe".
"[He] approached everything he did with an infectious sense of humour and a commitment that much of society would do well to emulate," he said.
"However, his outwardly shy persona belied a real presence both at work and play, and particularly on the rugby field.
"He was at his best on operations, demonstrating a real awareness and understanding of what he was being asked to do.
"It was always a wonderful sight to see this mountain of a man surrounded by children when on patrol."
Pte Vatubua's death brought to 349 the total number of British service personnel killed in operations in Afghanistan since 2001.
He was the first to be killed in 2011.
'Gentle giant'
His comrades spoke of a "gentle giant" who always had a smile on his face.
Pte Veniona Jegesa first met him at the Fiji Under-21 rugby trial and they went on to train together at Catterick.
"He was the first of our group to move onto the married patch and he would always look after us by inviting us to his house," said Pte Jegesa.
"We instantly became good friends. We used to call each other not by our real names, but by the name Tacina which means 'brother' in Fijian.
"He was planning on renewing his marriage vows in the Fijian way after the tour and had asked me to get him some traditional Fijian clothes. He had also asked me to be his best man."
Defence Secretary Liam Fox said: "My thoughts are with his family and the close Fijian community as they come to terms with his loss."