Partial solar eclipse clouded over in UK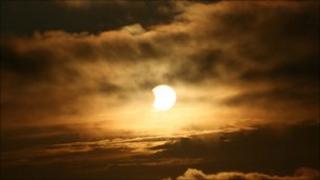 Cloudy conditions over much of the UK prevented many people from seeing a partial solar eclipse at sunrise.
In clear conditions, the east and south coasts of England would have been the best place to see the Moon pass between the Sun and Earth just after 0800 GMT.
Sky watchers in Aberdeenshire and Leicester were among the lucky ones to see it.
It was the UK's first partial eclipse since 2008 and comes more than 11 years after the full eclipse of 1999.
Solar-filter glasses
People outside were warned to view such an event wearing solar-filter glasses.
The government's chief medical officer, Dame Sally Davies, said children were at even more risk of serious damage and advised viewing the event on TV or the web.
BBC reporter Alison Moss said the main obstacles to viewing the cosmic phenomenon were the clouds and hills, adding that the best place to see was on the coast.
She said before the event: "The partial eclipse will be happening as the sun rises and will be best seen in the south east at around 0810 - and a little bit later the further north you are."
Lengthy wait
The eclipse, which was visible from much of Europe, North Africa and central Asia, ended about 0930 GMT for UK viewers.
The next partial eclipse will be in 2015 - with another 79 years to wait before the next total eclipse.
Last month, the first total lunar eclipse for three years was visible in the UK, with Cornwall one of the best places to view it.
A full lunar eclipse happens when the full Moon passes through the shadow created by the Earth blocking the Sun's light.