Newspaper review: Papers wary of VAT increase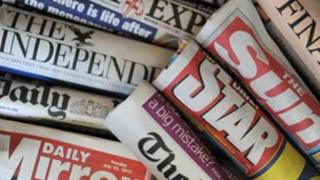 The Daily Telegraph reports retail experts are warning many businesses will use the 2.5% VAT rise to mask a bigger increase in their prices.
One analyst predicts increases of between 5% and 8%, or possibly more.
The Daily Mail says many stores will not adjust their price tags straight away, but will add on the extra tax when shoppers come to pay.
The result, it says, is likely to be queues of people arguing with checkout assistants or refusing to pay.
Tax fraud
Not every retailer will put up prices in line with VAT immediately, according to the Guardian.
John Lewis and Marks & Spencer are said to be among those planning to delay the introduction of the higher rate, at least for a few weeks.
The Times warns that as well as higher tax revenue, the Treasury can look forward to a sharp increase in fraud.
One expert tells the paper the value of VAT fraud is likely to double to as much as £4bn a year.
Blame game
Under the headline "Betraying our trust", the Daily Mirror accuses the Conservatives of breaking an election pledge not to raise VAT.
It says that "we must neither forget nor forgive the prime minister dipping his hand into our wallets and purses".
But the Sun pins the blame on the previous government.
The paper insists "these cuts and tax rises, painful and swift as they are, will help to pull us back from Labour's abyss".
'True star'
There are tributes to actor Pete Postlethwaite who has died aged 64.
The Guardian hails him as a "true star of stage and screen".
According to the Daily Telegraph "he brought to every role the same degree of scrupulous attention to detail, understatement and instinctive intelligence".
"In a world obsessed with celebrity and fame," says the Daily Star "he was part of a rare breed who relied purely on talent".