Queensland floods: Prince Charles sends message of support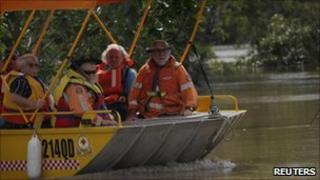 The Prince of Wales and Duchess of Cornwall have sent a message of support as Australia battles flooding that the prince said "all but defies belief".
He said the couple had been "horrified" by the news from Queensland, where more than 200,000 people have been affected in flooded or cut-off towns.
He praised authorities' "outstanding" work in evacuating people to safety.
"I can only pray that the worst of the flooding is over," said his message to prime minister Julia Gillard.
The north-eastern state of Queensland is suffering the most widespread flooding in its history, affecting an area the size of France and Germany combined.
The city of Rockhampton is at the centre of the emergency, where its 75,000 residents have been bracing themselves for the flooded Fitzroy River to peak within the next few hours.
Recovery work
"My wife and I have been horrified by reports of the terrible flooding in Queensland," wrote the Prince of Wales.
"The scale of the disaster all but defies belief and, on behalf of us both, I just wanted you to know how much our hearts go out to the hundreds of thousands of people whose lives and property have been affected."
The letter was sent to the Queen's representative in Australia, Governor General Quentin Bryce, with the message for Ms Gillard.
It went on: "I also wanted to say how enormously impressed we have been by what is, clearly, outstanding combined work of the military, emergency services, federal and state authorities in ensuring that people are evacuated to places of safety.
"As we all mark the start of a new year, I can only pray that the worst of the flooding is over and send you every possible good wish as you work for the recovery of the many communities involved."