Minister Bob Neill angry at councils' rubbish 'complacency'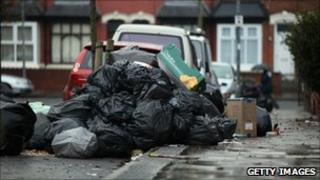 A minister has accused some councils in England of showing "complacency" after large backlogs of rubbish built up.
Local Government Minister Bob Neill said some people might "wonder if their council views the rubbish collection as just a favour, not a right".
He has written to council leaders asking them to show how services will be run better over the Easter holiday.
Meanwhile a council leader has apologised after saying uncollected rubbish "was not a major problem".
Councils have insisted they are working hard to clear the backlog, but some areas, including streets in Birmingham, Exeter, north London and Merseyside, have not had a collection for four weeks.
Local authorities blamed severe winter weather for disrupting bin lorry schedules, and said the problem had been exacerbated by the festive break and the increased amount of waste produced by households over Christmas and New Year.
There are concerns the situation could encourage rats and cause other health hazards.
The leader of Labour-led Exeter City Council Councillor Pete Edwards apologised to residents, who have not had their rubbish collected for four weeks.
The comments come after he told the BBC on Tuesday that he did not believe that it was "a major problem".
Mr Neill had called on Mr Edwards to apologise for his "irresponsible and insensitive" remarks.
Mr Edwards also pledged every household should have its black bin bags collected by the middle of next week.
'Rotting refuse'
Mr Neill said a regular bin collection was "one of the most basic services council taxpayers pay for" and there was "widespread public concern at the extent of the disruption".
He wrote: "It is particularly troubling that some press reports could appear to suggest a level of complacency and a failure to address the seriousness of the issues.
"Families who have been told to stockpile their rotting refuse inside their own homes by councils are entitled to wonder if their council views the rubbish collection as just a favour, not a right.
"And the public deserve a better answer than 'this is not a major problem'."
Mr Neill also announced government plans to introduce measures in the coming months to help all councils in England bring back weekly rubbish collections.
Under Labour, councils were encouraged to save money with fortnightly collections and were threatened with being marked down by the Audit Commission - which monitors council spending - if they ignored that guidance.
A spokesman for the Department for Communities and Local Government said it would not force councils to reinstate weekly collections, but had scrapped the Audit Commission and removed all the incentives to cut services.
'Disgraceful'
Council staff in some areas have worked extra shifts over the weekend and on bank holiday Monday, and casual workers have been called in to help.
Some BBC News website readers expressed their concern at the situation in their areas.
Robin Mueller, in Hitchin, Hertfordshire, said his food waste had not been collected in nearly six weeks.
"It is disgraceful that our council did not make any contingency plans for a catch-up service during this time," he said.
"Many people's bins in our street are overflowing and following the thaw it can only be a matter of time before rats, foxes and other vermin are attracted."
Sarah Turner, from Wallasey, Merseyside said: "My rubbish is in a small mountain outside our house. I have two young children, one aged 20 months and the other three, both still in nappies. It's a health hazard."
In Birmingham, the situation has been made worse by industrial action, which led to binmen walking out on 20 December in a pay dispute and subsequently working to rule.
Now staff have voted to take two further half-days of strike action in mid-January as part of a dispute over equal pay for male and female staff.
A Local Government Association spokesman said the exceptional weather had been the major factor hitting councils.
"They have done a terrific job trying to keep up the service and are working extremely hard to clear any backlogs," he added.