Border Agency reveals varied methods of drug smuggling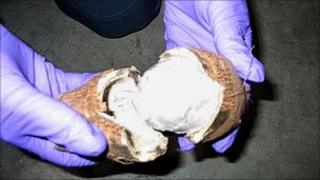 Drugs hidden inside vegetables, paintings, ornaments and bottles of liquor have been discovered over the past year, the UK Border Agency says.
Officers in Kent found £500,000 worth of cocaine packed into yams, which had been cut open and glued back together again, for example.
Drugs seizures fell last year, after rising steadily during the last decade.
This is partly because the police are now seizing more cannabis on the streets.
Brodie Clark, head of the agency's Border Force, said the concealed drugs were all found during searches at ports, airports and postal sorting depots last year.
He said: "These smuggling attempts show the lengths that organised criminals will go to in a bid to get drugs into the UK.
"Criminals are prepared to invest large sums of money to come up with ever better concealment methods because they know the potential profits from the awful trade in harmful drugs are considerable."
Recent drug smuggling attempts include:
In August, 10 kilos of cocaine were found hidden in yams sent on a freight flight at Kent International Airport. The vegetables, from Ghana, had been cut open to conceal the Class A drugs and glued back together.
About one kilo of cocaine - worth some £70,000 - discovered within air pockets inside glass ornaments at Coventry international postal hub in August
A package of cocaine weighing about 110g and worth up to £40,000 was found inside a birthday card destined for an address in Belfast in November
A 45-year-old self-employed mechanic from Trinidad and Tobago arrested shortly after he arrived at Gatwick Airport in December when one kilo of liquid cocaine was found inside two bottles of Baileys he was carrying
In December, a British man and woman arrived in Britain from Amsterdam after swallowing and stuffing about 500g of heroin. The woman required surgery to remove the drugs after eight days.
A UK Border Agency spokesman said the drug valuations were based on the purity of the drug and its street value at the time of the seizures.
Smugglers also tried to conceal cannabis worth almost £3,000 in a painting of Manchester City footballer Emmanuel Adebayor.
The wooden framed picture was seized by border officials as it passed through the international postal hub in Coventry, having been sent from the footballer's native Togo.