Newspaper review: Papers ponder Jo Yeates sock lead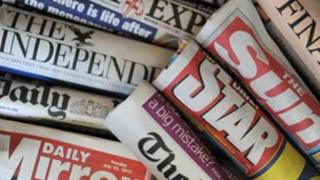 On the front of the Daily Star, a detective holds up a long grey sock. "Was Jo strangled with her own sock?" asks the headline in the Daily Mail.
The Daily Telegraph reports that the police are still "keeping an open mind" as they hunt Joanna Yeates's killer.
The Independent calls the search for the garment "the latest in a series of ostensibly insignificant clues".
The Guardian says more police officers have been drafted in to assist the investigation.
Prices worry
The Daily Mail talks of fears that "surging food and energy costs" will add to pressure on household finances.
The Guardian says experts are divided about whether inflation is "here to stay", bringing higher interest rates and a threat to economic recovery.
But the Daily Telegraph is inclined to think the rising cost of necessities reflects a changing world.
This is as the vast populations of India and China improve their standard of living.
Cup final
The Daily Express reports that, as interest rates stay low, savers are "stashing money under the mattress".
The paper says it is now estimated people in the UK have as much as £7bn hidden in their homes.
The Guardian reports that the Starbucks chain of coffee shops is to stop serving coffee in its distinctive "chunky white mugs".
The company describes its mugs as a "bit dated" - and plans to replace them with 140,000 bone china cups.
Jabs shortage
According to the Independent on Wednesday some 300,000 people had rung in to say they were too sick to work.
But if any of them want a flu jab to prevent another bout of illness they might have a problem.
"Doctors," says the Daily Telegraph, are "running out of vaccine". The paper has been speaking to GPs, many of whom say there may be enough for pregnant women but not for others.
The Sun talks of "panic" and the Daily Express calls it a "crisis".