Sir David Latham questions life prisoner reoffending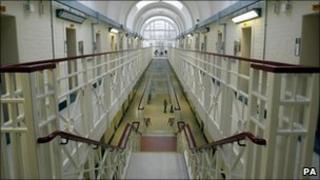 Reoffending rates among life sentence prisoners may be higher than figures suggest, according to the chairman of the Parole Board of England and Wales.
Internal estimates indicate that, each year, between 1% and 2% of lifers freed on parole commit further crimes.
But Sir David Latham told BBC News the current statistics were not "robust" and it was hard to be sure if the right parole decisions were being made.
He also warned of the "danger" of an "over-reaction" to high-profile cases.
Such cases were ones in which offenders on parole, such as Jon Venables, have committed further crimes.
Parole Board figures for 2009/10 show that 5% of 1,797 lifers under active supervision in England and Wales were sent back to prison.
But the figures do not show how many were recalled for committing further offences.
Sir David, who became chairman in February 2009, said he had to rely on unpublished calculations which he did not feel "comfortable" with.
"The problem has been that we were working on figures when I first arrived which I thought were robust only to find when I examined it that they weren't robust," he said.
The internal figures suggest a "serious" reoffending rate of 1% to 2% - but Sir David said he was concerned that the real figure was in fact higher.
He suggested that without accurate statistics it was hard to assess whether Parole Board members were making the right decisions on whether to release prisoners who had been given minimum jail terms.
The decisions are based on the risk the prisoner poses to the public and how likely they are to re-offend.
"We do know anecdotally about people who have committed serious further offences...[but] we need statistics to identify how many so we can make a clear and proper decision about where we are about being risk averse or not."
Sir David also said there was a risk that parole panel members might be affected by reaction to cases which were in the public eye.
"There is a danger of an over reaction which can make it difficult for us to make rational decisions thereafter," he said.
"We're human beings, we're bound to be affected by the reaction of the press and the public... and the worry one has is that that may affect your ultimate decisions in other cases."
The chief statistician of the Ministry of Justice said: "I launched a consultation on measures of reoffending on 17 November 2010. In my independent role I will consider all representations about how the Ministry of Justice can improve measures in future".