British Coptic Christians mark Christmas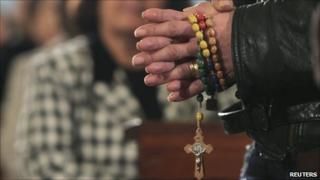 British Coptic Christians are celebrating their Christmas, but "with sadness and distress" in their hearts because of the widening attack on Christians in the Middle East.
Many share the fear expressed by President Nicolas Sarkozy of France that Christians face what appears to be "a particularly perverse plan of religious cleansing in the Middle East".
At the Christmas Eve service at St George's Coptic Cathedral in Hertfordshire on 6 January, members of the congregation said they'd spoken to relatives and friends in Alexandria, Egypt, where a bomb killed 21 worshippers at a Coptic church on New Year's Eve.
'Distressed and unhappy'
Dr Zak Michael said Copts, who make up about 9% of the population of Egypt, were extremely anxious about the attack on their church.
"Christians are very stressed and upset by the loss inflicted by this atrocity, by this terrible event.
"They want to celebrate Christmas, but deep in their hearts they are sad, distressed and unhappy."
The Islamist website, Shumukh al-Islam, that listed the church in Alexandria among potential targets, has also detailed churches in Europe that might be attacked, including three in Britain.
Almost a quarter of Coptic Christians live outside Egypt.
They have 100 churches in the US and dozens more in Europe.
Shumukh al-Islam - a Yemeni website used by al-Qaeda as a mouthpiece - named 16 churches in Europe.
It encouraged Islamist radicals to attack them, saying Christmas was a good time because churches would be full.
The General Bishop for the Coptic Church in the UK, Bishop Angaelos, presided over the two-hour service at St George's Cathedral, chanting much of it in the ancient Coptic tongue which was derived from the language spoken by the pharaohs themselves.
Outside about half a dozen police officers patrolled the grounds, and monitored traffic arriving at the gates.
Bishop Angaelos - who estimates that up to 20,000 Copts live in the UK - said they had been anxious ever since the attack on a Syriac Catholic Church in Baghdad in October, which ended in 68 people being killed.
Well-planned attack
He believes a dangerous new precedent has been set, with militants switching their attention from political and military targets to religious ones.
"It was the first time a terrorist group had attacked a Middle Eastern church," said Bishop Angaelos.
"This is also a very new step in attacks in Egypt. We have seen various threats and various attacks but this is the first time we have seen a very well-planned and effective attack like this happening."
Bishop Angaelos wants the Eygptian President Hosni Mubarak to reverse what he calls "the passive" response of the past, that has "sent out the message that Christians in Egypt are an easy and legitimate target".
The bishop said the Coptic Church had lost millions to martyrdom throughout its long history but also believed that life and liberty were God-given gifts.
It is one of the oldest churches in the world - founded by St Mark the Apostle only a few decades after Jesus' crucifixion.
Copts faced persecution under the Roman Empire and again after they broke away as an independent church in 451 AD, after a dispute about the exact nature of Jesus as both human and divine.
They say they continue to face attack and discrimination in Egypt and are under-represented in government.
Only a handful of members of the Egyptian parliament are Coptic Christians.
Copts are led by their own pope, Shenouda III, who is 87.
Coptic popes are chosen by an election that culminates in the names of the three candidates with most votes being written down on pieces of paper.
After a religious service, the folded slips of paper are placed in a bowl, and a child is used to choose one of them as the new pope.
Along with other Orthodox Churches, the Coptic Church celebrates Christmas on 7 January because it follows the old Julian calendar, replaced for the western churches by the Gregorian calendar, decreed by Pope Gregory in 1582.
At St George's cathedral the clergy are dressed in the richer robes reserved for such feast days, singing hymns with music never written but passed down orally over centuries.
In line with tradition, they are accompanied only by cymbals and triangles.
John Shenouda is a cantor, helping to lead the singing in Coptic, Arabic and English.
"Singing in Coptic is hard, because you have to learn it and understand it before you can sing and chant the language," he said. "But, it has been used in the Church for almost 2,000 years, so it is very special to us."
John, a medical student, is among a relatively large number of young people in a Church that claims to be growing at a time when others are struggling.
A Sunday School movement that began in the 1940s and 50s in Egypt has boosted its numbers there and been copied successfully overseas.
But the Church is - like other Christian groups in the Middle East and elsewhere - under growing pressure in Egypt.
The funeral rite is to be recited at St George's Cathedral on Sunday for those Coptic Christians who were killed in 2010.
Representatives of other denominations are expected to attend, and it's clear the Copts also have the support of most Muslims.
Many speak of the horror expressed by Muslim neighbours in Egypt about the attack in Alexandria.
President Mubarak's two sons, Alaa and Gamal, attended the Christmas service conducted by Pope Shenouda in Cairo.
Copts say it is now up to the president to take effective action to protect them.