David Chaytor prison sentence widely reported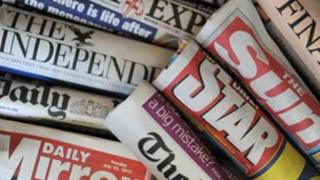 The 18-month prison sentence given to the ex-Labour MP David Chaytor for falsely claiming thousands in parliamentary allowances is widely scrutinised in Saturday's papers.
The Daily Telegraph refers to him as a "broken man".
In the Independent, former Tory cabinet minister Jonathan Aitken said Chaytor will find the start of his sentence "a cultural and personal shock".
Chaytor "was not a lone sinner in a house of saints", says the Daily Mail.
The Financial Times returns to the issue of bonuses for senior bankers.
It says "political pressure and public sector pay cuts" are not going to stop Britain's biggest banks paying out large bonuses to their top executives.
The Guardian is interested in the possibility that products containing contaminated eggs from Germany may have made it onto shop shelves here.
It reports that the Food Standards Agency and major stores have "sought to defuse public anxiety".
The Daily Mirror and the Sun both focus on the hunt for the killer of landscape architect Jo Yeates.
The Mirror says plain-clothed police "swamped the streets" near her Clifton home on Friday in a "secret operation to question hundreds of people."
"Jo's Last Text" is the headline in the Sun, which refers to a phone message she sent to a friend.
It says the friend, who did not respond, "is now racked with guilt", fearing he could have saved her life".
Celebrations after England's Ashes series win is widely reported.
The Guardian has an image of Andrew Strauss and Paul Collingwood, arm in arm and holding a replica of the famous Ashes urn after their series victory.
And the Times has a photograph of bowler James Anderson who is seen celebrating with a kiss on the cheek from Graeme Swann.
The Independent's front page refers to the win with under the headline "conquering heroes".