Coalition government reform programme 'behind schedule'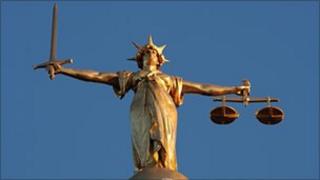 The coalition government is behind schedule on 12 key reforms to the criminal justice system, immigration and counter-terrorism, it has emerged.
The BBC's Danny Shaw said the development of plans with coalition-wide agreement had been "problematic".
Details on the latest progress made by each government department on fulfilling policy pledges have been set out by Downing Street.
The Home Office said it had delivered on a number of key pledges.
The government's transparency website brings together a range of information - including timetables for implementing policies as part of a bid to be more open about the inner workings of government.
Our correspondent cited the delayed counter-terrorism review as an example of where the government was behind.
He said: "The government has embarked on an ambitious programme to reform policing, sentencing and immigration. But developing proposals that command coalition-wide agreement and address the concerns of interest groups is proving problematic."
By now the Home Office was meant to have streamlined stop and search powers and published plans for the storage and retention of internet and email records.
However, it has done neither.
The replacement of one quango for another - the National Crime Agency taking the place of the National Policing Improvement Agency - appears to be slipping as well.
Officials have said some delayed policies will be delivered in the next two months.
On one key pledge - giving householders greater rights to defend themselves against intruders - the government says it is awaiting clearance from the Home Affairs Committee.
And, where other ministries are concerned, the Department of Health is also behind schedule in a number of areas.
A Home Office spokeswoman said: "The structural reform plan shows that we have already delivered many of our key pledges - including scrapping ID cards and ending child detention.
"We are making good progress on the others and will continue to work to deliver the changes the public want."